Classics Convention Features Faculty Workshops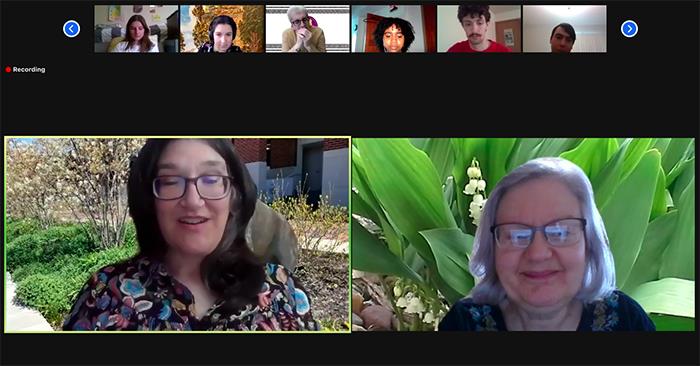 Truman was the host for the virtual 93rd Annual Convention of Eta Sigma Phi, the national classics honor society for the study of classics, April 16-18.
Students worked with current chapter advisor Amy Norgard and past chapter advisor Bridget Thomas to plan and create engaging content for the event. This included a video tour of campus, murder mystery game, virtual gift bag of classics Zoom backgrounds, memes and a Latin yoga routine with help from Janes Dreamweaver, director of fitness-wellness. They also invited their peers from across the country to join them for an informal evening event dedicated to sharing classics-inspired compositions such as prose and poetry.
The event included a welcome from President Sue Thomas, a reading by David Elliot, author of "Bull" and former Clayton B. Ofstad Visiting Professor at Truman, as well as workshops organized by Truman faculty and administrators. Among the workshops were:
"Early Printed Editions of the Classics: Sebastian Brant's 1502 Vergil Leaves"
Amanda Langendoerfer, associate dean of libraries for special collections and museums
"A Woman Scorned: Hera in Film, Television, and Video Games"
Amy Norgard, assistant professor of classics
"The Perfect Loaf: An Exploration of Food in Ancient Greece"
Joshua Nudell, soon to be joining the history department in fall 2021
"Write Like a King! Egyptian Hieroglyphics"
Sara Orel, professor of art, art history
"The Best of Hercules on Screen"
Alex Tetlak, instructor in classics
"Greek Sacrifice: An Animal-Centered Look at Consent v. Vitality Argument"
Bridget Thomas, professor of classics
(with thanks to the University Farm).
An Eta Sigma Phi Lifetime Achievement Award was given to Rebecca Harrison, Truman professor emerita of classics.
Truman classics students competed in elections for national offices as well as other competitions. Debeaux Bowman was installed as national president; Sophia Picard was installed as national treasurer; Elana Sanders-Braxton won honorable mention in the Latin declamation contest; Azeeza Eagal was on the winning team for Certamen; and John Harrop won best paper for "The Sensations of Chariot Racing."