Truman Students Complete FLITE Internship at Boeing
Four Truman students completed The Boeing Future Leaders in Thought and Experience (FLITE) internship during the 2013 summer.
The students completing the internship were Christopher To, Waymon White, Kimberly Carlton and Blake Miller.
The Boeing FLITE Internship Program is a unique, fast-paced 10-week internship program designed to create world-class inclusive thought leaders. The program structure teaches participants to drive innovative and creative business-focused solutions. Four days during the week are spent working at Boeing in a specific business function. Every Friday throughout the internship, the students participate in FLITE School, which is separated into five sections: Beyond Business Basics; Captain and First Officer Session; Ready for Takeoff; Thought Leaders Take FLITE; and 20/20 Vision. This structure was designed to maximize the FLITE participants learning experiences and increase their business acumen, as well as create more immediate synergies between professional development and deliver impactful results.
The first section, Beyond Business Basics, teaches FLITE participants the fundamentals of Fortune 500 financial analysis through hands-on instruction with Boeing based data sets. From finding cost inefficiencies among thousands of rows of data to displaying results in an "executive ready" presentation, the FLITE interns truly went beyond business basics and learned the hard skill-sets required to be an effective business analyst. The second section, Captain and First Officer, is a speaker series in which Boeing managers and frontline leaders provide an overview of their specific business function. It teaches the interns what a "day in the life" would be like in that function.
The third section, Ready for Takeoff, is an advanced nine-part development series that provides the interns with the intangible soft skill sets that are critical to being an effective thought leader. The fourth session, Thought Leaders Take FLITE, encourages participants to challenge the stereotypes and misconceptions that can potentially derail an individual along his or her path to true thought leadership and action. Finally, the fifth section, 20/20 Vision, provides the interns with a first-hand exposure to Boeing products. Interns toured the Prologue Room, F-18, F-15, JDAM and practiced their skills on the flight simulators.
FLITE is a true partnership between Boeing and three select Midwest Universities: Truman, Saint Louis University and the University of St. Louis - Missouri. For the 10-week internship, interns live together in the University of Missouri- St. Louis' Oak Hall Dormitory. The summer culminates with the interns presenting to Boeing executives about their experience. This internship allows Boeing to identify top talent earlier in their academic career while providing students with an unparalleled learning experience that they can apply to their business classes.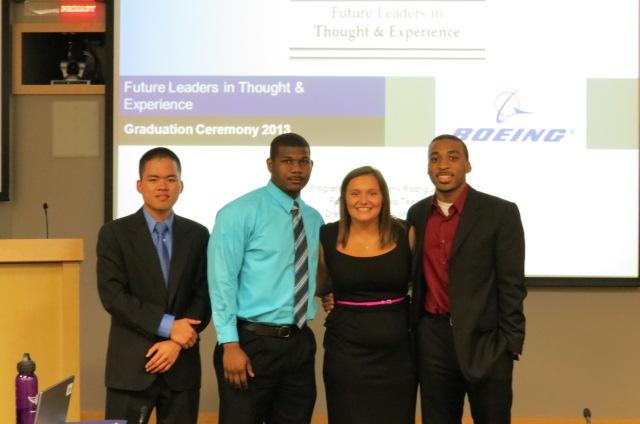 Students pictured left to right: Christopher To, Waymon White, Kimberly Carlton and Blake Miller.