Phi Beta Lambda Acknowledged at Conference
The 53rd Annual Missouri Phi Beta Lambda State Leadership Conference took place March 23 in Osage Beach, Mo.
Members and the advisor from Truman participated at the conference, which featured competitive events for individuals and teams, leadership training and election of officers for the next year.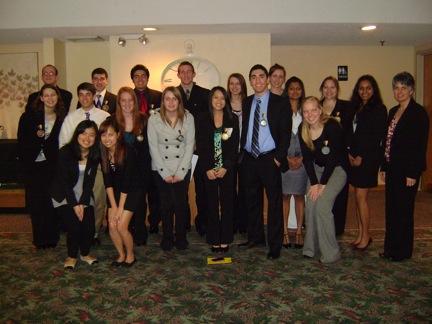 Members of Phi Beta Lambda, a business-focused organization, pose for a picture at the State Leadership Conference with advisor Cathy Poyner.
The Truman chapter received the award for 1st largest chapter in the state. The chapter received the Gold Seal Chapter Award of Merit and 2nd in the Local Chapter Annual Business Report.
Twenty Truman students were recognized at the awards program and are eligible to represent Truman at the National Leadership Conference taking place in June in San Antonio, Texas.
Phi Beta Lambda is an educational association of post-secondary student members preparing for careers in business. There are more than 11,000 active members in the United States and Missouri has more than 400 members in 22 chapters.