Stangler Earns National Scholarship
Connor Stangler, a junior English and history double major from Columbia, Mo., was recently awarded a national competitive scholarship of up to $30,000 from the Harry S. Truman Scholarship Foundation.
This year, the Foundation received 587 applications from 272 colleges. Only about 65 scholarships are awarded annually. Stangler is the only student from a Missouri university to receive the award.
Stangler, who will graduate from Truman in May 2013, tentatively plans to pursue a joint juris doctorate/master's in public affairs at the University of Wisconsin-Madison followed by a Ph.D. in politics and social policy at Princeton University. He credits Truman's broad curriculum and focus on personal education, as well as service-learning experiences, with helping him secure this scholarship.
"Had I gone to a larger university, or one that placed less of an emphasis on civic commitment, I would not have had the same opportunities," Stangler said. "The faculty, staff and administrators devote so much of their time to developing leaders and broadening the intellectual capabilities and, especially, the bold imagination of their students. Truman is interested in more than producing efficient professionals; they are interested in producing honest citizens, ones that have the chance to effect change."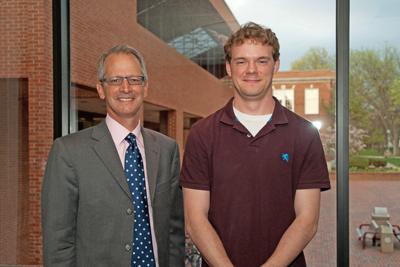 Connor Stangler, right, with University President Troy D. Paino after learning he received the Harry S. Truman Foundation Scholarship. The national competitive scholarship is worth up to $30,000.
The Foundation, based in Washington, D.C., provides funding to students pursuing graduate degrees in public service fields. The Foundation also provides assistance with career counseling, internship placement, graduate school admissions and professional development. Scholars are invited to participate in a number of programs, including Truman Scholar Leadership Week, The Summer Institute and The Truman-Albright Fellows Program. A complete list of all of this year's scholarship recipients can be found at
truman.gov/meet-our-scholars
.