Speech and Hearing Clinic Provides Free Services to All
When Catherine Walker arrived at her first therapy session at Truman's Speech and Hearing Clinic a few years ago she could not speak. Her mother, Kimberly Walker recalls the days not so long ago when her daughter only communicated through sign language. Catherine is only seven years old and although she is still receiving therapy, a huge stride has been made as she is now verbally communicating. Her journey to the clinic for twice-a-week sessions has given hope for Catherine, which is something the Walkers were not always sure they could have.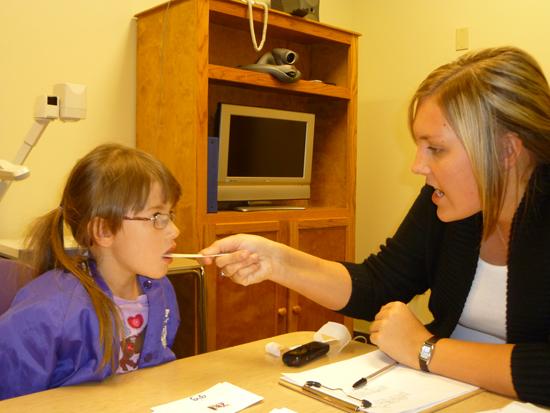 Catherine Walker, left, works with Truman student clinician Katie Shirmulis during a therapy session at the Speech and Hearing Clinic. Catherine and her two brothers have all received treatment at the clinic.
Truman's Speech and Hearing Clinic has been helping residents from Kirksville and the surrounding area since 1960. In November, the clinic moved into new facilities located in the Truman Health Sciences Building. The clinic serves any individual with disorders of speech, language, voice, fluency, aural rehabilitation and swallowing, all at no cost to the people served.
"The fact that our clinic does not assess a fee to the individuals who are served on-site is extremely rare," said Melissa Passe, director of the Speech and Hearing Clinic. "The ability to provide on-site services at no cost allows us to better focus on client care and less on the red tape that inevitably goes along with charging and billing individuals or insurance entities."
The quality of care at the Truman Speech and Hearing Clinic is something Kimberly Walker can attest to, as Catherine is her third child to receive treatment. Walker's son Jonathon started coming to the clinic when he was eight years old after being diagnosed with central auditory processing disorder. Children affected by CAPD cannot always separate verbal messages from non-essential background noises.
Now age 15, Jonathon has progressed to the point where he no longer needs to attend therapy sessions, however, Walker's 10-year-old son Kristopher has also been diagnosed with CAPD and has been making progress through the Speech and Hearing Clinic for the last three years.
"This clinic has really helped all three of them," Walker said. "The kids need this clinic to make it."
Not only was the Truman Speech and Hearing Clinic the first option for Walker, it was also her only hope. As each of her three children needed speech or auditory therapies, she only had one place to go.
"I didn't have any other options," Walker said.
The Walkers are just one of several families who have received help from the Truman Speech and Hearing Clinic.
"If the clinic were not here, there would be over 100 individuals each semester who would be unable to receive much needed evaluation and therapy services," Passe said. "We have a strong reputation in the community because so many people have received excellent services from Truman students and staff over the years."
Truman's senior and graduate student clinicians benefit from the real-life experience by having the ability to provide therapy. Faculty members who hold the Certificate of Clinical Competence and a license to practice in Missouri supervise students.
Mikail Brown is a sophomore communication disorders major at Truman and regularly does observation hours at the clinic.
"Just by observing from behind the scenes, I see lives changed," Brown said.
No-cost clinics are rare due to the necessary heavy reliance on donations. The Speech and Hearing Clinic provides free services thanks to the support of the University and from community organizations.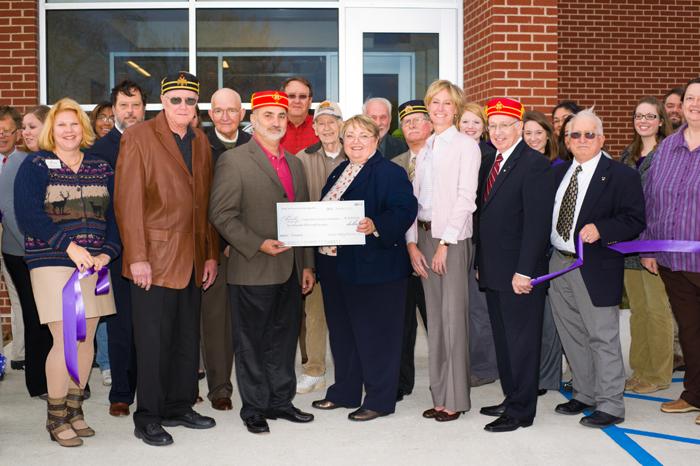 Paula Cochran, chair of the Communication Disorders program at Truman, accepts a $10,000 donation from Jack Kairy, president of the Scottish Rite Valley of Columbia, Mo.
One major benefactor to the Speech and Hearing Clinic over the years has been the Scottish Rite Valley of Columbia, Mo., an affiliate of the Scottish Rite, a national Masonic organization. During the Speech and Hearing Clinic's open house Nov. 12, the organization made a contribution of $10,000 to the Truman State University Foundation to support the Communication Disorders Department, which oversees the clinic's operations. Thanks to these donations, families like the Walkers can turn to the Speech and Hearing Clinic to seek the help they need.
Today, Catherine is able to focus on pronunciation so that she can become more comfortable with the language she is more than able to speak.