The Kohlenberg Lyceum Series Presents "A Christmas Carol"
The Kohlenberg Lyceum Series continues on Nov. 29 with "A Christmas Carol." This holiday production performed by NTC PRODUCTIONS will take place at 7:30 p.m. in Baldwin Hall Auditorium.
NTC PRODUCTIONS adapted this production in 1979 and has toured annually ever since. The company makes this widely-performed classic original with a Victorian theme and the integration of traditional Christmas carols into the narrative. The songs themselves are traditional, but musical arrangements courtesy of John Bennett are contemporary.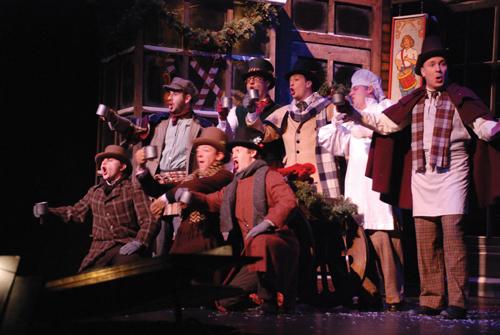 NTC PRODUCTIONS' "A Christmas Carol"
Charles Dickens wrote his "ghostly little tale" in 1843, and "A Christmas Carol" has since become one of the most beloved holiday traditions of all time. This fable depicts Scrooge, whose values are focused exclusively on profit. The story explores the protagonist's conflicts with the struggling Cratchit family, whose tragic problems typified the working class during the Industrial Revolution in Victorian England. The touching climax is based on Dickens' belief that the ills of a greedy world can be healed by brotherhood and unselfishness.
"A Christmas Carol" features a spirited ensemble of 28 performers who bring Dickens' fable of redemption to life on a magical set, including a spinning bed, created by designer James Othuse. This show, adapted by Charles Jones of the Omaha Community Playhouse, is sure to spark the holiday spirit.
Free tickets are available now for students, faculty and staff. Students may pick up their tickets at the Student Activities Board Office in the Student Union Building. Faculty and staff may acquire their tickets at the information desk in the Student Union Building.
The Truman Bookstore, a Follett Higher Education Group, is a Platinum level sponsor of this event.
For additional information, visit
lyceum.truman.edu
or contact 785.4016.