Alumnus Begins Program to Promote Worldwide Health
Alumnus Andrew Dykens has combined his medical education and his desire to help others to create Peace Care, a nonprofit organization designed to bring community health solutions to every corner of the globe.
After graduating from Truman with a degree in biology, Dykens volunteered for the Peace Corps, serving from 1997-1999 in Mauritania, West Africa. Through his experiences in the Peace Corps, he developed an interest in global health, and would later utilize the organization as a partner for launching Peace Care.
"Health is intrinsically linked to hope, and I truly believe that with hope, one has everything," Dykens said.
Peace Care is a collaboration between the Peace Corps, U.S. health care training institutions and local communities to build a healthier world. Peace Care is essentially a consulting body providing technical expertise for volunteer projects. It links the resources of academic institutions with the expertise of the Peace Corps, which already has a presence in numerous communities around the world. What makes Peace Care unique is that it focuses not on simply volunteering, but in building sustainable health organizations that will be able to serve the community for years to come.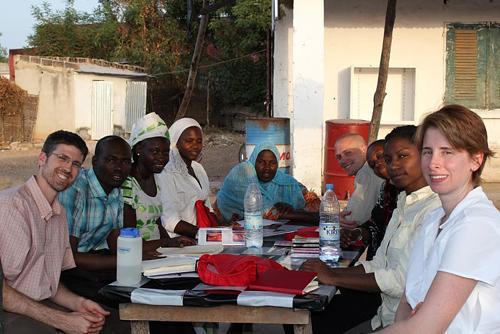 Andrew Dykens (far left) meets with members of the Peace Care team during a pilot program in Senegal.
Dykens founded the organization to help increase global health by partnering with the Peace Corps.
"Peace Corps Volunteers, being integrated within the community and trained extensively in cultural competency and local language, are highly qualified field workers," Dykens said "Peace Care works with those volunteers who have training and a background in health to conduct projects in a sustainable manner by collaborating with a local counterpart."
Currently, Peace Care has collaborative agreements in place with Peace Corps posts in Uganda, Jordan and Senegal, and is in discussions with several other countries.
Peace Care is not a government entity, but rather a nonprofit organization. To cover the costs of its pilot project in Senegal, Peace Care raised $10,000 during a 12-day pledge drive. Anyone interested in making a tax-deductible gift to Peace Care can do so at
http://www.peacecare.org/Home/how-can-you-help
.
While Peace Care does collaborate with the Peace Corps, one major difference between the two organizations it that Peace Care does not require service commitments. Anyone interested in volunteering can offer assistance in various capacities at
http://www.peacecare.org/Home/volunteer-form
.
Dykens, who works as an assistant professor of family medicine at the University of Illinois-Chicago and as a clinical physician at UIC's Mile Square Health Center, developed the idea for Peace Care as a capstone project for his public health degree in 2008.
"Peace Care holds a component of all of my worlds — public health, medicine, the Peace Corps and education — it is who I am," Dykens said.
A native of Carl Junction, Mo., Dykens graduated from Truman in 1997. He received his medical degree from the University of Missouri-Columbia and completed his residence at the UIC Department of Family Medicine Residency Program. At the University, he was a member of the wrestling team and was active in Blue Key. He and his wife Lauren live in Chicago with their daughter Sevilla.