Students Receive First Environmental Award
The first recipients of the "Worcester Environmental Activist Award," were named at Truman's spring local foods dinner April 20.
The award, named in honor of recently retired employee Howard Worcester, was created to recognize students who actively promote environmental practices on campus and in the community.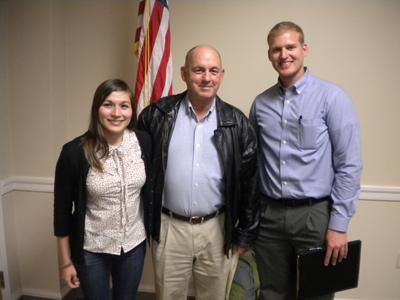 Howard Worcester (center) with Danielle Zemmel and John Nolan,
winners of the first "Worcester Environmental Activist Award."
Recipients of this year's premiere award are Danielle Zemmel, a senior biology major, and John Nolan, a senior sustainable development major.
The creation of this award goes hand-in-hand with the University's mission to become more sustainable overall. Members of the President's Sustainability Action Committee (SAC), created in Spring 2009, wanted a way to honor Worcester for his dedication to the University as well as recognize students who are upholding Worcester's dedication to the promotion environmentally friendly practices.