SIFE Team Wins Regional Competition
Truman's SIFE team was named a Regional Champion at the SIFE USA Regional Competition March 28 in Chicago, Ill.
The event is one of 12 SIFE USA Regional Competitions taking place across the U.S. in March and April.
Jessie Eubank, Cody Hagan, Iliyana Kuneva, Andrew Metcalfe, Brandon Wehmeyer and Erin Williamson presented the Truman SIFE's team projects at the regional competition. Other team members participating in the event were Morgan Anderson, Kim Battern, Tim Cooper, Kayla Jacobsen, Amanda Kersting, Ashley Lynch, Shristika Tandukar, Martha Tillmon and Karen Tsokwa.
During this academic year, the Truman SIFE team organized 12 larger-scale projects in Kirksville and the surrounding areas, including Hablidades Economicas, a bilingual financial literacy workshop geared toward the Latino community living in Milan, Mo., and Planning for Success, college preparation workshops for students in La Plata High School.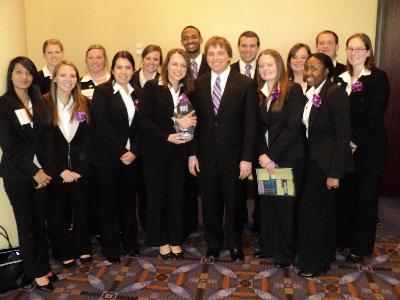 Pictured left to right in the first row are Shristika Tandukar, Ashley Lynch, Erin Williamson, Iliyana Kuneva, Cody Hagan, Jessie Eubank and Karen Tsokwa. Pictured left to right in the second row are Amanda Kersting, Kim Battern, Kayla Jacobsen, Andrew Metcalfe, Tim Cooper, Martha Tillmon, Brandon Wehmeyer and Morgan Anderson.
Overall, Truman's SIFE team has impacted more than 2,000 people and devoted more than 3,200 hours to improving the quality of life in the community.
As a SIFE USA Regional Champion, the Truman SIFE team now advances to the 2011 SIFE USA National Exposition May 10-12 in Minneapolis, Minn.
Truman has one of nearly 600 SIFE programs in the U.S. Participating students use business concepts to develop community outreach projects to improve the quality of life and standard of living for people in need.
The culmination of the SIFE program is an annual series of competitions that provide a forum for teams to present the results of their projects, and to be evaluated by business leaders serving as judges. Teams compete first at the regional and national levels, then at the international level at the SIFE World Cup.