Foundation Banquet Celebrates University Supporters
University supporters Chuck and Sherri (Pierce) Woods, along with State Farm Insurance, received special recognition at this year's Truman State University Foundation Banquet April 9 in the Student Union Building.
Chuck and Sherri Woods received the President's Leadership Award for their numerous acts of service over the years. The President's Leadership Award, established in 1998 to recognize alumni and friends for meritorious service through gifts of volunteerism, expertise and financial resources, is considered one of the most prestigious awards presented by the University.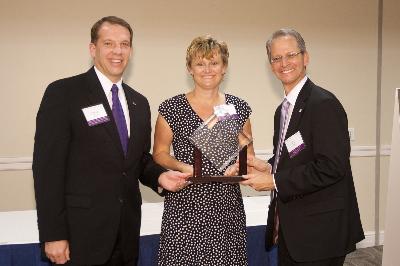 Chuck and Sherri Woods accept the President's Leadership Award from University President Troy D. Paino.
The Woods' affinity for the University dates back to the 1980s when they were students. They first met in an accounting class and have maintained a strong connection to Truman over the years. Chuck graduated from Truman in 1986 with a bachelor's degree in business administration and earned a master's of business administration from Southern Illinois University Edwardsville. Sherri began her undergraduate work at Truman and finished her bachelor's of science in communications at St. Louis University.
Today Chuck works for The Boeing Company, where he serves as vice president and chief financial officer for Engineering, Operations & Technology. Chuck's exceptional service to his alma mater includes serving as Truman's executive focal with his employer to help foster a strategic corporate partnership between the University and The Boeing Company. He has also been instrumental in helping secure Boeing's philanthropic investment of more than $465,000 in Truman programs.
In addition, Chuck served two terms on the Truman State University Foundation Board of Directors, first as chair of the Developmental Committee and, in his final year, as president of the board.
In the early 1990s, Sherri was employed at Ranken Technical College in the Development Office, and prior to that, she worked in marketing at Citicorp Mortgage. Over the past 16 years, she has been an active volunteer for her church, community and school district. In addition, she has held various PTA positions at her children's schools and chaired many committees.
Both Chuck and Sherri are members of the John R. Kirk Society and the Pershing Circle. The couple established the Chuck and Sherri Woods Endowment for Business Excellence with a gift of $25,000 that was matched equally by Boeing.
State Farm Insurance was recognized with this year's Distinguished Corporation/Foundation Award. Established in 2006, the award recognizes corporations, foundations, and organizations for exemplary support to the University and its students.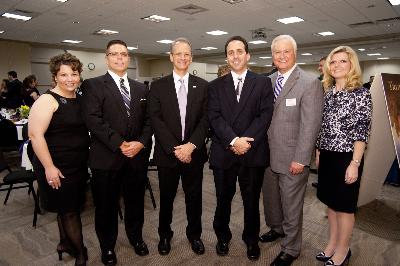 President Troy D. Paino with representatives from State Farm Insurance. Pictured, from left: Jennifer Maijala, Brian Maijala, Paino, Jim Camoriano, Steve Rose and Bonnie Kuebler.
Truman has received ongoing support from State Farm Insurance over the years. In 1998, State Farm took its support of the University to a new level with a $100,000 gift to provide funding for a range of student-centered technology for Violette Hall.
More recently, State Farm made a $5,000 contribution to Truman's Student in Free Enterprise (SIFE), a not-for-profit international organization that provides students with opportunities for involvement and leadership.
The University also receives enhanced support from State Farm's Matching Gift Program. The program matches limited individual charitable contributions made to Truman by State Farm eligible associates, agents and retirees.
In addition to providing significant financial support to Truman State University, State Farm offers career opportunities for both students and graduates.