Schwengel-Lincoln Contest Winners
Students Emily Ward and Mark Misiewicz won the Schwengel-Lincoln Contest for essay and art respectively.
Truman alumnus Fred Schwengel ('30) of Iowa served in the U.S. House of Representatives for eight terms, retiring in 1973. He and his wife Ethel Cassity Schwengel ('32) began giving his large collection of Lincoln- related books, art and other memorabilia to the University in 1976.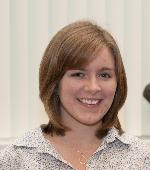 Emily Ward
They also included funds to maintain the collection and to establish an annual Schwengel-Lincoln Contest, now administered by the School of Arts and Letters. Entries in the categories of art, oratory and essay are judged for creativity, content, technique and original use of a Lincoln-related theme.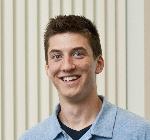 Mark Misiewicz
Ward's essay was titled "Me and Lincoln, Lincoln and Me." Misiewicz's portrait of Lincoln was untitled.
Both Ward and Misiewicz were awarded cash prizes in the amount of $250 and their entries will become part of the Schwengel-Lincoln Contest Collection in the Special Collections Department at Pickler Memorial Library.