Scharff Named 2010-2011 Presser Scholar
Martha Scharff has been named a Presser Scholar for the 2010-2011 academic year.
The "Presser Undergraduate Scholar Award" is given to an outstanding music major at the end of his or her junior year. The Presser Foundation awarded this prestigious award to Scharff this spring.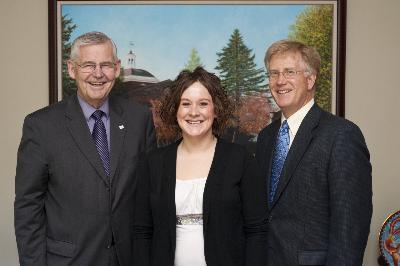 Presser Scholar Martha Scharff with Thomas Hueber, professor of music, and recently retired Truman President Darrell W. Krueger (left).
Scharff is pursing a Bachelor of Arts degree with a general concentration in music-vocal emphasis.
Theodore Presser is remembered not only as the publisher of Etude, the music magazine, and the founder of the great music publishing firm bearing his name, but also as a philanthropist who specialized in music education.
Scharff has been a member of University Chorus and Truman's top select vocal ensemble, Cantoria, for the past three years and will serve Cantoria as president next year. She played the role of Sally in Truman Opera Theatre's recent production of "Die Fledermaus."
Among her achievements, Scharff won second place in the Sophomore Women's Division of the Missouri District Auditions sponsored by the National Association of Teachers of Singing (NATS) in 2008 and was a semi-finalist at the NATS Central Region auditions in 2009. She was a finalist in the Truman State University Gold Medal Concerto aria competition in 2009 and was selected as a winner of the Gold Medal Competition in 2010.