Truman Music Groups Travel Abroad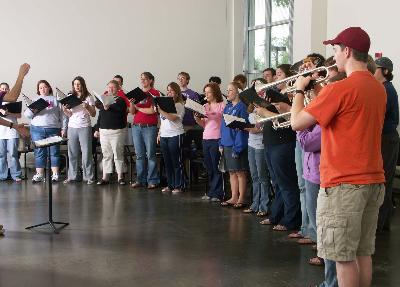 Cantoria and Brass Ensemble members practice prior to leaving for their two-week tour of Italy and Greece.

The Truman State University Cantoria and Brass Ensemble embarked on a two-week tour of Italy and Greece May 18.
Twenty-eight Truman students and three Truman faculty members participated in the tour, which included concert performances as well as visits to museums, churches and other tourist activities.
Each student prepared a presentation on some aspect of the music or culture of Greece and Italy for the class-component of the tour. Some students completed their presentation on campus, while others made their presentation "on site."
Mark Jennings, assistant professor of music and director of choral activities, led the choir. The Brass Ensemble and Cantoria performed separately and together for the concerts. Jacqueline Collett, associate professor of music, and Greg Jones, professor of music, also performed a soprano and trumpet duet. The program included works by Palestrina, Schütz, Croce, Scarlatti and Bach, as well as selections of world music and several American folk songs and spirituals.
The group's itinerary included Lake Garda, Venice, Cremona, Florence, Lucca, Sienna and Jesi in Italy, and Corfu, Delphi, Athens and Corinth in Greece. The tour concluded with a concert at the American College in Athens before they returned home June 1.