A Day in Truman's History - Name Change Legislation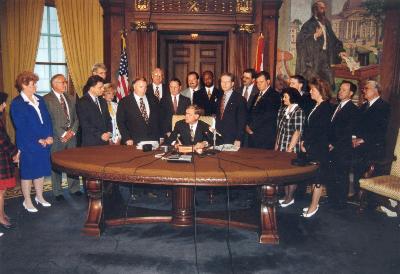 Gov. Mel Carnahan signs the official legislation changing the University's name to Truman in 1995.
Ten years ago on June 15, 1995, University administrators and Board members, legislators, CBHE representatives, alumni and friends gathered with Gov. Mel Carnahan in his office in Jefferson City, Mo., for the official bill signing of the legislation which changed the University's name to Truman State University, effective July 1, 1996.
Ten years earlier on June 20, 1985, Gov. John Ashcroft signed legislation effective Jan. 1, 1986, that changed the University mission from a regional university to a statewide public liberal arts and science university.
"Ten years ago this month, Northeast received a new statewide mission as Missouri's liberal arts and sciences university," Carnahan said in 1995. "Since that time, the University's success has exceeded all expectations - bringing great credit to the school and the state of Missouri. On the 10th anniversary of this historic event, I am honored to sign legislation that will give one of the nation's best public universities a name that complements its statewide mission."