Thirty-Two Graduates Named Valedictorians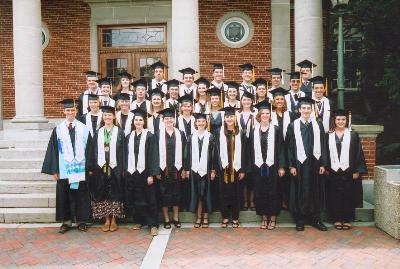 The spring valedictorians gather prior to commencement May 14.
Thirty-two graduates received top honors at Truman's spring 2005 commencement ceremony May 14 at Stokes Stadium.
Each valedictorian had a perfect 4.0 grade point average for all subjects.
Valedictorians included Audrey Armstrong, Collin Ashmore, Christopher Bay, Leigh Ann Bolton, Sarah Brown, Joy Chisholm, John Crossett, Sarah Dance, Amy Endicott, Wyatt Feeler, Amber Gordillo, Micah Hainline, Rodney Hoover, Jeanette Jackson, Nicholas Kremer, Evan Merrell, Evan Montgomery, Jaclyn Payton, Lindsey Quinn, Laura Reber, Sarah Schack, Rachel Scheperle, Jamie Sharp, Rhiannon Shoults, Kristina Sis, Sarah Starnes, Mackenzie Taylor, Diana Upton-Hill, Jonathan Waits, Nathan Wales, Ryan Walsh and Brett Werenski.