Summer Academies Completed Successful Term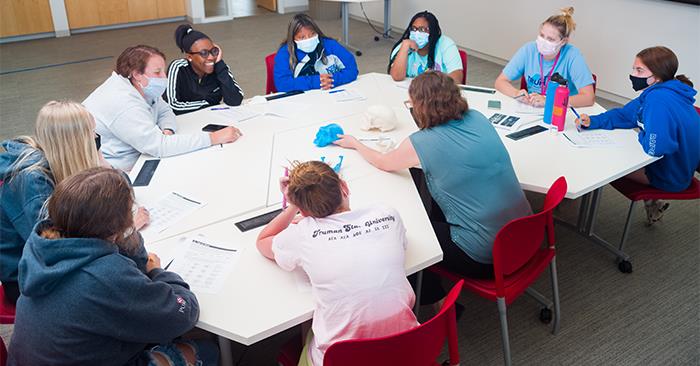 Students take part in an activity during the ATSU-Truman Healthcare Academy. More than 500 students participated in summer academies through the University in 2022.
Truman hosted more than 500 pre-college students for on-campus academies this summer, with certain in-person activities returning for the first time since the pandemic began.
The Institute for Academic Outreach coordinates the ATSU-Truman Healthcare Academy and the Joseph Baldwin Academy for Eminent Young Scholars (JBA), as well as JBA Jr.
"The most important thing I hope all students of the academies take away from their experience is that Truman State University is a place they can find their passion, experience something they have not had an opportunity to experience before and know that they are welcome to learn and grow with us," said Michelle Wilson, coordinator of summer academies and early college programs.
JBA has been the most prominent summer academy at Truman since its inception in 1985. This three-week residential program provides students in grades 7-9 a selection of liberal arts and sciences courses taught by Truman faculty that simulate the experience of a first-year college student. Thousands of program alumni have gone on to attend the University. If JBA were a high school, it would be Truman's largest feeder school.
This year, JBA enrollment was up by more than 75 additional students across both of its summer sessions compared to 2021. For the first time since 2019, the academy conducted closing ceremonies and a family visit day. The curriculum was also expanded, with 22 courses offered between the two sessions.
JBA Jr., a spinoff of its namesake, began in 2019. Its goal is to help students from neighboring rural communities get excited about the possibility of college and to begin believing that college is a realistic goal for their future. Targeted to students in grades 4-6, JBA Jr. aims to inspire enthusiasm for learning in all ability groups.
Operated in conjunction with A.T. Still University, ATSU-Truman Healthcare Academy is designed for students in grades 9-11 interested in health-related professions. Students learn through hands-on activities and stimulating discussions. They also get to use actual health care and medical facilities, including: the ATSU cadaver lab, where students have direct contact with real human systems and handle actual human organs; human-patient simulators, where medical students learn how to respond to actual patient crises; and biological, clinical and exercise laboratories on both the Truman and ATSU campuses.
Nomination and registration for 2023 summer academies will open soon. Details can be found at
institute.truman.edu
or by contacting the Institute for Academic Outreach at 660.785.5384 or
institute@truman.edu
.
More information about all of Truman's summer offerings, as well as college credit for high school students and professional development opportunities, can be found at
institute.truman.edu
.