Poet Laureate to Visit Truman for Public Reading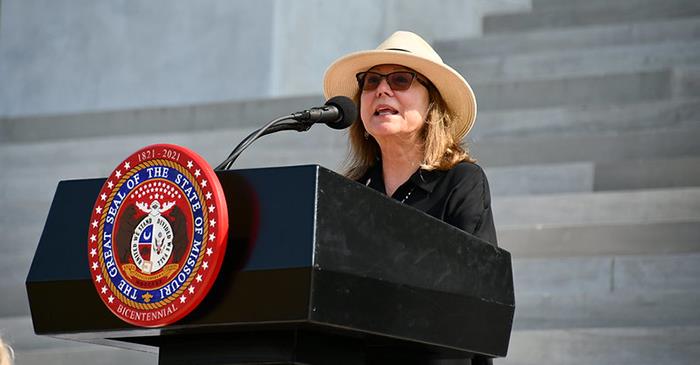 Missouri Poet Laureate Maryfrances Wagner reads her poem "Missouri" on the steps of the Capitol in Jefferson City on Statehood Day, Aug. 10, 2021.
Missouri Poet Laureate Maryfrances Wagner will give a poetry reading at 7:30 p.m. Sept. 13 in the Baldwin Hall Little Theatre.
The Missouri Poet Laureate enriches citizens' lives throughout the state by fostering the reading and writing of poetry through public appearances, readings, workshops, and digital and social media.
A native of Independence, Wagner is a poet, teacher and community arts leader. She has published 10 collections of her poetry, most recently "Solving for X," published this summer. Other books include "The Immigrants' New Camera," "Salvatore's Daughter," "Light Subtracts Itself," "Dioramas," "Pouf," "The Silence of Red Glass" and "Red Silk," which won the 2000 Thorpe Menn Literary Excellence Award. Her poems have also appeared in dozens of magazines and anthologies. Wagner has co-edited several poetry anthologies including "The Whirlybird Anthology of Greater Kansas City Writers," "Missouri Poets: An Anthology" and the New Letters Review of Books. Since 2010 she has co-edited I-70 Review magazine.
In 2020, Wagner was named the Individual Artist honoree for the Missouri Arts Awards, the state's highest honor in the arts.
For 30 years, Wagner taught English and creative writing at Raytown High School and the University of Missouri–Kansas City, winning local and state recognition for excellence in teaching.
Wagner's reading is free and open to the public. As part of her appearance at Truman, she will also visit a creative writing class the morning of Sept. 14.