The Index Earns Multiple Awards at Virtual Conference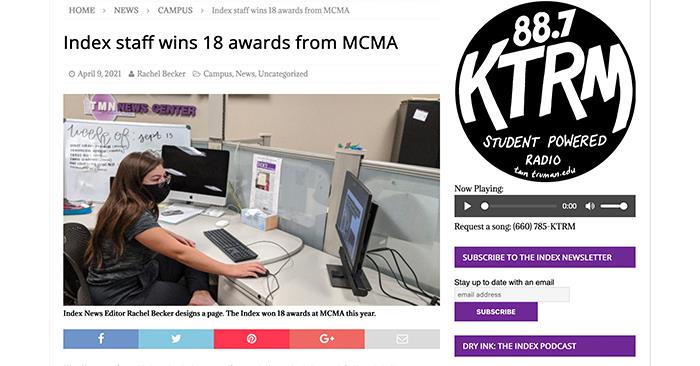 The Truman Index won 18 awards from the Missouri College Media Association, including second place in Best Overall Newspaper in Division II and third place in the Division II sweepstakes.
MCMA is an organization representing newspapers and yearbooks from colleges and universities around the state of Missouri.
The annual conference was intended to take place in-person on Truman's campus but got moved to virtual format due to COVID-19.
"I couldn't be more proud of The Index staff and their dedication to creating quality news and entertainment content for the campus community," said Ryan Pivoney, editor-in-chief of The Index and MCMA president "We had winners in a variety of areas, so it's nice to get that validation that we're on the right track."
Index staff won the following awards for Division II:
First PlaceGordon McPherson
Entertainment Review
"Honey Boy' is harrowing and memorable"
Samuel Sardis
Non Political/Entertainment Cartoon
"Room selection be like"
Second PlaceSamuel Sardis
Non political/Entertainment Cartoon
"Is that the sound of … food?"
Samuel Sardis
Political/Editorial Cartoon
"It's just a cough"

Elisabeth Shirk
Sports Writing
"Bulldog beats the odds"
Best Overall Newspaper in Div. II
Third PlaceJoey Doughrty
Entertainment Review
"Chrisopher Nolan's Tenet' is bold and relentless"
Ryan Pivoney
Sports Page
"Totta leads bulldogs with talent, passion"

Elisabeth Shirk
Editorial/Op-Ed Page
The Index Vol. 111 Issue 13
The Index
Website—
tmn.truman.edu
The Index
Sweepstakes

The Index Editorial Board
Editorial Writing
"Our view: #CampusClear-ly not working"
Honorable Mentions
Rachel Becker and Anakin Bush
News Writing
"Racist posters prompt community response"
Rachel Becker and Anakin Bush
News Photography
"Truman students organize march, vigil for Breanna Taylor"

Anna Mercer, Erica Shamel, Orielle Heilicher and Rita Hanch
Investigative Reporting
"Campus parking causes frustration"

Rachel Becker
Page One Design
The Index Vol. 111 Issue 13
Ryan Pivoney
News Photography
"Peaceful protest hosted in Kirksville"

Elisabeth Shirk
Column
"Fighting the misinformation pandemic"