Graduation Expanded to Accommodate Guests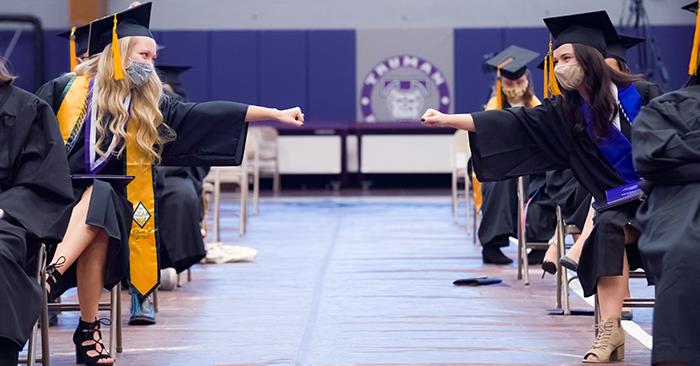 In order to conduct an in-person ceremony for graduates and their families, Truman will expand spring commencement this year and host seven ceremonies between May 7-8.
All events will take place in Pershing Arena, with ceremonies scheduled for 11 a.m., 2:30 p.m. and 6 p.m. on May 7, followed by ceremonies at 9:30 a.m., 1 p.m., 4 p.m. and 7:30 p.m. on May 8. Graduating students will be allowed two guests for their assigned ceremony, and all events will be livestreamed for those who are unable to attend in person. Seating at Pershing Arena will be socially distanced, and the campus mask policy will be in effect. The venue will be cleaned after each ceremony and before guests are permitted to reenter the building.
This commencement will be unlike any Truman has ever attempted, and it will require a lot of extra planning and preparation from University staff, faculty and administration. Since COVID-19 precautions have been taken into consideration, the best option to ensure an in-person ceremony for students and their families was to plan for multiple events across multiple days. An outdoor ceremony was not logistically feasible with a contingency plan in the event of inclement weather.
Specific details regarding each ceremony will be emailed to graduates and posted on
truman.edu/registrar/commencement
as they become available. All spring graduates must apply for graduation by April 1 to participate in the ceremony and be listed in the program. The Registrar's Office will notify graduates which ceremony they must attend. That information will be available soon.
Graduates will receive their tickets during the graduation fair. Family and friends who are unable to attend the ceremony in person can watch live online at
truman.edu/registrar/commencement/commencement-broadcast
.
Additional questions regarding commencement can be directed to the Registrar's Office at
registrar@truman.edu
or 660.785.4143.