Truman Group Helps Local Businesses Succeed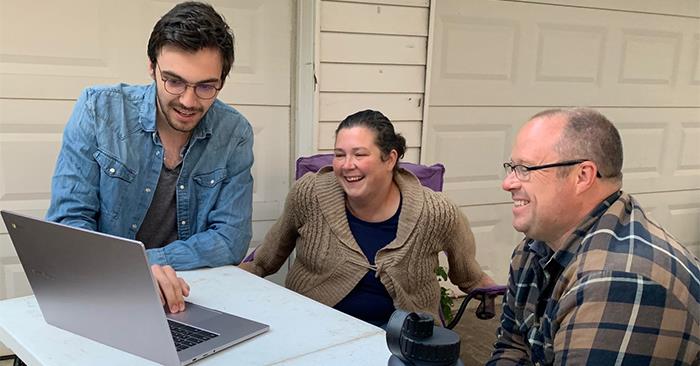 Enactus Member Mike Owsley, left, works with Stacie and Brad Hudson, owners of Farmhouse Hill Flowers, putting the final touches on their website.
The student group Enactus is doing its part to help local businesses succeed.
Enactus is an international organization full of students who are passionate about creating a better future for the community around them. Among the projects conducted by the Truman chapter is the Local Business Outreach program. Students share their collective knowledge, education and passion to help businesses and organizations in the Kirksville community.
Services provided by Enactus have included: website and social media advice; implementation of a new Quickbooks program; photography and video work; filming and editing videos; establishing donation links; and the creation, distribution and analysis of market surveys.
Among the clients helped by Enactus students are The Depot Inn & Suites, the Pantry for Adair County, Bellacino's, the Kirksville Child Development Center and Hightower Wholesale.
The chapter currently has four running projects: the Financial Literacy Project, Local Business Outreach, Re-School Supplies and Connect Taiwan. Students are also working with the Kirksville Area Chamber of Commerce and researching a possible plastic road project. Students interested in joining Enactus can attend one of the group's weekly meetings taking place at 6 p.m. every Tuesday in Magruder Hall 1000.
Enactus provides its services to local entities free of charge. Businesses and organizations interested in learning more can email
enactuslbo@gmail.com
.