Students Help FLATS Project Inch Toward Goal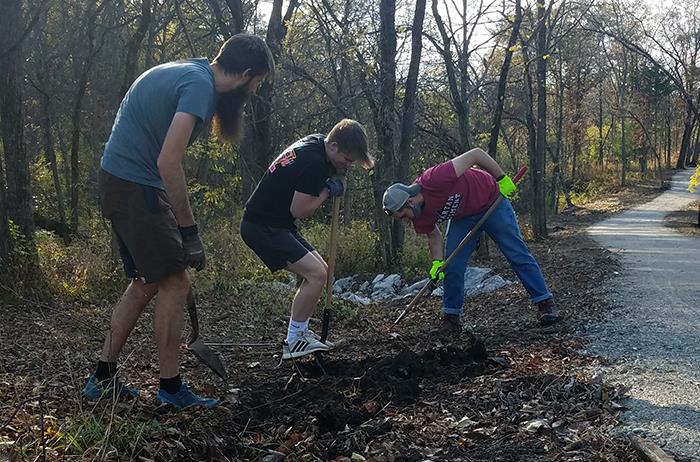 Truman students help install a silt fence near the FLATS trailhead at the corner of Missouri and Osteopathy streets.
The Forest Lake Area Trail System (FLATS) has been a dream for many community residents for nearly a decade, and a group of Truman students are doing their part to make it a reality.
When completed, FLATS will be a bike and walking trail connecting Kirksville to Thousand Hills State Park. For years, a group of citizens who volunteer their time and resources have worked with the Missouri Department of Natural Resources, the City of Kirksville, Adair County, area service organizations, local businesses and the community at large to make the trail a reality.
Students in Julie Lochbaum's TRU 100: ENABLE class have separated into small teams to help with the overall implementation plan which includes: fundraising; community educational presentations; marketing/publicity; grant-writing and/or generating funding proposals; site preparation; and researching accessible recreation.
One team was responsible for assisting FLATS with staffing for the signature event, the FLATS Trail Half-Marathon, which took place Oct. 17. The team with the most students did physical work on the trail itself, building silt fencing and trail grooming. Education team students created nature-related activities for persons with disabilities to engage along the trail.
In terms of accessibility, Lochbaum is working with FLATS to construct a trail that is partially paved, cognizant of grade, incline and width, and also sensitive to those with invisible disabilities.
"One of the major things that increases accessibility of this particular trailhead is the fact that it will be located within city limits," Lochbaum said. "A lot of individuals with disabilities often do not have the means to travel to Thousand Hills State Park where the other trailhead is located, so by establishing this trailhead, Kirksville will be able to include an even larger sector of our diverse community."
The main goal for this project was to build project management skills, practice team membership skills and demonstrate the social model of disability in interactions with diverse students and Kirksville community members.
Overall, the trail is an effort to promote health and wellness, reduce health care costs, raise property values and improve quality of life. The trail will make the community more attractive for businesses and potential residents. The students are also embracing the ideology of getting a deeper understanding and connection to Kirksville.