Art Projects Help Form Community Bonds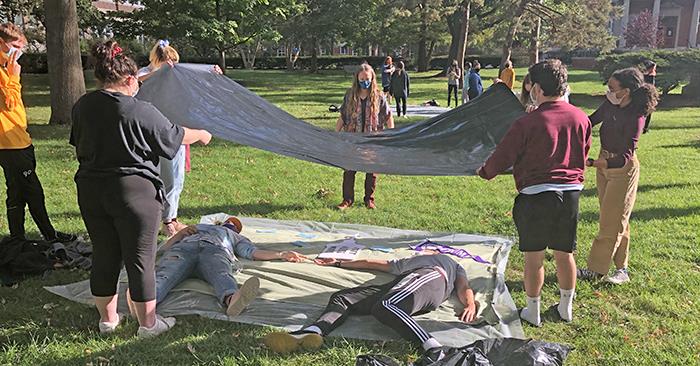 Students work together to make a large-scale cyanotype on a bed sheet. The sheet is coated in photosensitive chemicals and any parts of it that are exposed to UV light for a period of time will turn blue. Areas where the light is blocked, either by a student's body or by the other props they included, will stay white. The large cyanotypes will eventually be hung between the pillars of the library.
Art has a way of bringing people together like few other things can, which is why it is the perfect subject for a TRU 100 First-Year Experience Symposium course. Using art projects as a common bond, incoming Truman students not only make new friends, they also connect to the Kirksville community.
TRU 100: CREATE is one of the nine symposium offerings available to incoming students. The class is currently working on six different outreach projects, each with the common theme of using art to celebrate and strengthen community. Already, Truman students have conducted a workshop at the Sue Ross Arts Center downtown, and a future project includes a collaborative art venture with local children.
"Giving children an opportunity to be creative, showing them a process that combines science with art, and connecting them to the arts center at an early age are excellent short-term goals that could have positive future outcomes," said Danielle Yakle, assistant professor of art, sculpture and fibers.
Yakle is no stranger to having her students create community art. Past endeavors have included the
kraken
on the quad and the
solar system
in the library pit. In order to allow 100 first-year students to make optimum use of a one-hour class, Yakle has them working with cyanotype, an alternative photo process which incorporates photosensitive chemicals to make an image. When an item has been covered in the material, parts that are exposed to UV light for a period of time will turn blue.
"I knew students could learn it quickly, teach it to other people in the community quickly, and do it on a large scale that would allow us to create an impressive public artwork," Yakle said.
In addition to the cyanotype projects, future goals of the TRU 100: CREATE class include developing on-campus art-themed events for students, publication of zines – small DIY booklets – that will be distributed through various means near the end of the semester and will encourage others to notice things that might get overlooked in their surroundings. There is also the aptly named Big Art Project that will be displayed publicly. The yet-to-be-determined venture will be documented on a website by students in the class so all interested parties can follow its progress.
"Even if not every student will connect directly with Kirksville, the symposium can encourage students to get to know their surroundings, collaborate with the people around them, and be more civically minded," Yakle said.
To a certain extent, the class has already achieved that goal.
"A lot of them have started to open up a lot," said Samuel Sardis, a preceptor for the course. "I've been seeing a lot of students' responses change as the semester goes on. You can tell they're becoming more open minded and they're being more communally aware of their surroundings."
Nathan Dowell, a first-year student from St. Charles, Mo., selected the course specifically because it was something outside of his comfort zone.
"I wanted to expand my knowledge and my creativity – to be able to approach problems differently. I wanted to look at new things," Dowell said. "I haven't had an art class since elementary school."
A history and political science major, Dowell credits his experiences in the class with helping him connect with Kirksville.
"Learning about how they're trying to put in new sidewalks, and how they're remaking some buildings downtown, that stuff was really interesting. It helped me learn a little bit more about the community in general," he said. "I feel like the more familiar I am, the more this place starts to feel like home."
Artwork from the workshop Truman students conducted with local children will be on display at the Sue Ross Arts Center starting in November. The website documenting the Big Art Project will be available soon and shared through Truman social media platforms.