Art Gallery Opens with Virtual Reception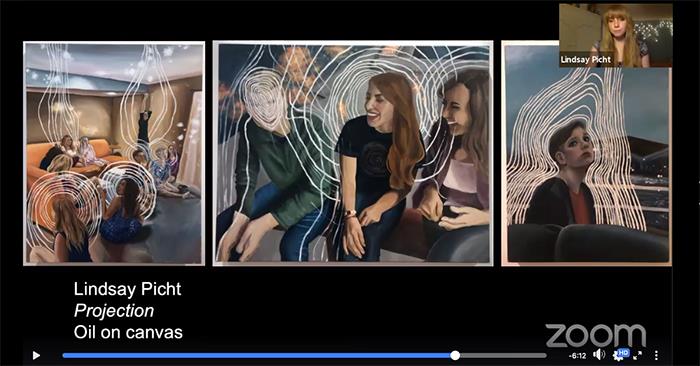 Lindsay Picht discusses her work during the University Art Gallery's virtual opening reception Aug. 25. A recording of the program can be found here.
In a normal year, the University Art Gallery is often a hub of activity with special events taking place several times during the spring and fall semesters. While the coronavirus might limit the ability to host receptions, the gallery remains open.
On Aug. 25, the University Art Gallery hosted a virtual opening for the season on Facebook Live, which was emceed by Heidi Cook, gallery director and assistant professor of art and art history.
"We see gallery receptions as important social events for getting students, staff and faculty from across campus together to catch up and share ideas, eat snacks and, most importantly, to set aside some time for looking at art," Cook said. "Nothing can replace the act of experiencing art in person, but the opening reception we streamed online on Facebook allowed us to foreground more artist talks, which we aren't always able to structure into normal receptions and which are great professional practice for our students."
In this virtual opening, no one was actually present in the gallery. Rather, Cook moderated a Zoom presentation that featured an overview of a current exhibit, a preview of what is in store for the coming year and a presentation of juried student exhibition awards from the previous academic year. Students Wesley Scafe and Lindsay Picht discussed their first place and best in show pieces, on display until Sept. 29.
"We really wanted to make sure to draw attention to and celebrate the hard work and accomplishments of our students in the Art Department and in museum studies," Cook said. "The online format also let us connect with Truman alumni and fans of the gallery who don't live in Kirksville."
"Beneath White Tents," curated by students in IDSM 361 "Exhibition and Museums: Planning and Practice," is currently on display in the Charlyn Gallery. Students Alexa Day and Tessa Sottile joined the call to discuss the exhibit, which showcases the excitement and exoticness of the circus in small town America, as well as the decline and legacy of the circus on American culture.
Day and Sottile were two of many students in the class who put together the exhibition drawing upon the work of the fall 2019 ART 345 "History of Graphic Design" and spring 2019 IDSM 360 "Museums: Object and Collections" classes. When cancellations related to the coronavirus forced its originally planned run in the spring, students from IDSM 361 put together a virtual version of "Beneath White Tents" that can be viewed online at
idsm361.wixsite.com/beneathwhitetents
.
In October the gallery will host "Wandering Spirit: African Wax Prints," a traveling exhibition of textiles. Visitors to the Art Gallery will be required to wear masks and maintain social distance with those not in their household. Capacity is also limited to 12 people at a time in the gallery space.
A recording of the virtual opening is available at
facebook.com/tsuartgallery/live
. For more information about exhibits at the University Art Gallery, visit
gallery.arttruman.com
.