Kaden Earns Faculty Mentoring Award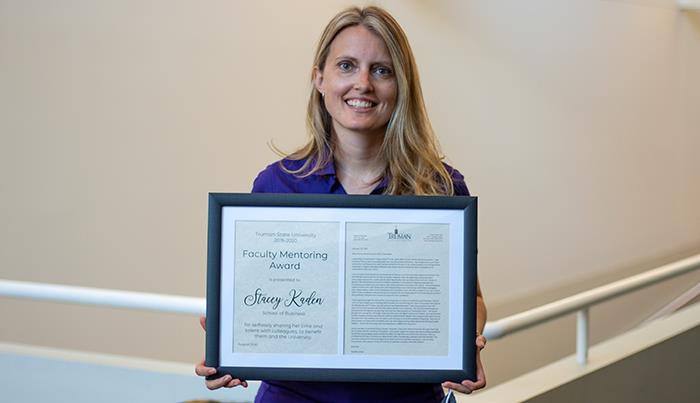 Stacey Kaden, chair and associate professor of accounting, received Truman's Faculty Mentoring Award for 2019-20.
The Faculty Mentoring Award is given to a full-time faculty member who has served as an official or unofficial mentor to another faculty member. The Academic Affairs Office accepted letters of recommendation during the previous school year.
Nominees were evaluated in the areas of scholarship, teaching, service and/or work-life balance. In Kaden's case, nominating faculty members noted she was "always willing to listen to me about the issues of my day and to help resolve them" and that she helped provide "a sense of community and confidence."
A member of the faculty since 2014, Kaden previously worked for five years as a tax accountant at a public accounting firm. An alumna of the University, she received a bachelor's degree and a master's degree from Truman before earning a Ph.D. in business administration from the University of Arkansas.