Entrepreneurship Encouraged on Campus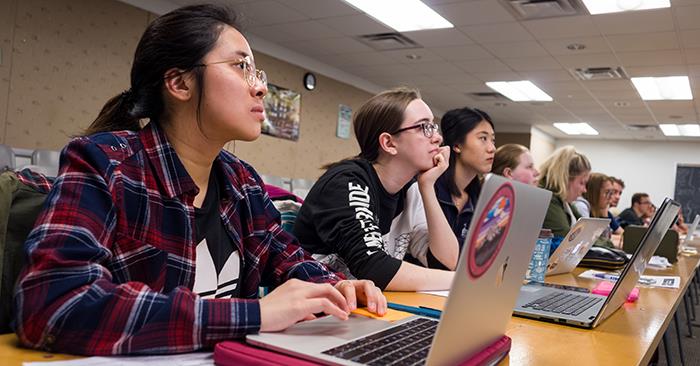 Students listen to a presentation about pitching to investors during a meeting last fall. Truman's "Entrepreneurship and Innovation Initiative" recently created an online community forum where students can discuss their potential ventures with other like-minded individuals.
A liberal arts education encourages creative thinking and problem-solving skills, so Truman is a natural breeding ground for potential business ideas.
During the fall 2019 semester, the offices of Academic Affairs and Advancement joined together to create the "Entrepreneurship and Innovation Initiative." The goal of the program is to promote a culture of entrepreneurship among the Truman community. Past efforts have included the Bulldog B.I.T.E. pitch competition and programs like "The Art of the Side Hustle" featuring alumnus and business owner Doug Villhard.
The next component of the "Entrepreneurship and Innovation Initiative" is an online community forum. Any member of the Truman community can register for free, giving them access to post on topics as well as share ideas and information with others.
"This is really about creating a space where students can come to share their thoughts and bounce ideas off one another," said Chuck Boughton, entrepreneurship fellow. "It's exciting to have this community of support because it has the potential to help students develop their ideas into viable entrepreneurial ventures. The next great, revolutionary product or service might start right here at Truman."
The Community Entrepreneurship and Innovation Forum is available on the Truman website at
communityforum.truman.edu/community
. Throughout the semester the Truman Today will post the topic for the forum's Conversation of the Week.
Entrepreneurship Week will start Sept. 22 with another presentation by Villhard, "The Art & Science of the Side Hustle in Pandemic Times," and "Celebrating Women Entrepreneurs," Sept. 24. Both of these virtual events are open to students, faculty and staff. More information will be available in the coming weeks.