Student Center for the Public Trust Receives Golden Star Award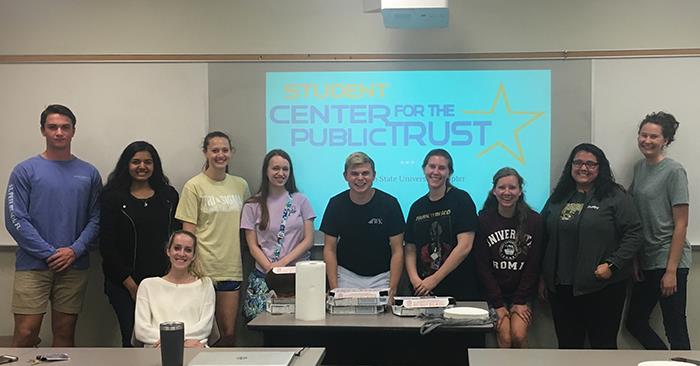 Truman's chapter of the Student Center for the Public Trust earned Gold Star status from its national organization for its efforts during the 2019-20 academic year.
Every year Center for the Public Trust encourages chapters to stay involved with their members and community. Chapters have the opportunity to obtain either Star Chapter or Golden Star Chapter status. Truman's chapter received Golden Star status for the third consecutive year since its inception.
Nationally, Center for the Public Trust has 46 chapters; Truman was one of 17 to receive this honor. In order to achieve Golden Star status chapters must: elect officers; host five chapter meetings; have two community service events; submit reports; present a Campus Being a Difference Award; and create an Ethics in Action video.
For the first time in its history, Truman's chapter conducted a virtual chapter meeting and virtual elections. Both in person and over zoom, members were able to analyze different ethical situations.
The chapter created an Ethics in Action video with the theme of unemployment discrimination.
Members had a great time participating in the University's Trunk-or-Treat event with the Kirksville community and helping Rotaract sell tickets for its annual Spaghetti Dinner to raise money for the Make-A-Wish Foundation.
David Gillette and Caleb Bruemmer were the faculty and student recipients, respectively, for the Campus Being a Difference awards. Both of these individuals positively impacted the school by displaying strong ethical leadership.
Membership in the Student Center for the Public Trust is open to all current Truman students. For more information or details on how to join, visit the organization's
Facebook page
or email
studentcpttruman@gmail.com
.