Alumna Selected as December Commencement Speaker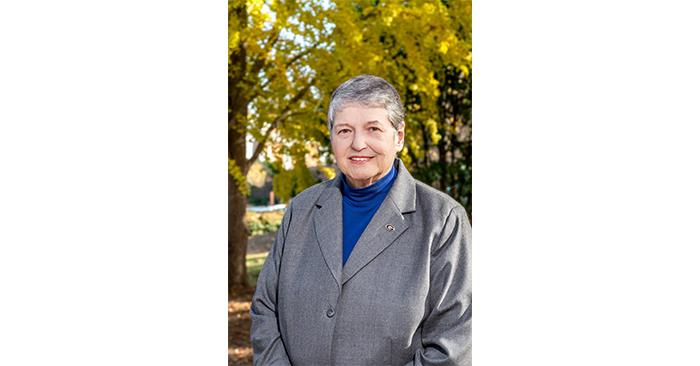 Truman's December graduation ceremony will take place at 11 a.m. Dec. 14 in Pershing Arena, with alumna Sharron Sue (Grogan-Bailey) Quisenberry providing the commencement address.
Quisenberry received her Bachelor of Science in Education from Truman in 1966 and a Master of Arts in environmental biology at Hood College in 1975. She then entered graduate school at the University of Missouri-Columbia, earning a Master of Science and Ph.D. of entomology in 1977 and 1980, respectively.
As an emerita professor of entomology at Iowa State University, Quisenberry is recognized nationally and internationally for her research in host plant resistance to insects and insect-plant interactions. She began her career in entomology as an assistant professor at Iowa State and attained the ranks of associate and full professor of entomology at Louisiana State University. Quisenberry moved into administration as division chair at the University of Idaho, department head at the University of Nebraska-Lincoln, dean of agriculture at Montana State University and dean of agriculture and life sciences at Virginia Tech. She returned to Iowa State to serve as vice president for research and economic development before retiring in 2013. She came out of retirement in June 2019 and is currently serving as associate dean for research and faculty and graduate affairs in the College of Veterinary Medicine at the University of Georgia.
With colleague Steve Clement, Quisenberry co-authored a seminal book on conservation of germplasm for insect resistance that is used globally. She has authored and co-authored more than 95 referred journal articles, books and book chapters, with more than 150 other technical publications including a patent and three registered germplasm/cultivars. Quisenberry has presented more than 140 lectures at international and national meetings and has received funding for research as principal and co-principal investigator from the National Institutes of Health, National Science Foundation, United States Department of Agriculture, Murdock Trust, Ford Foundation and industry.
Quisenberry was named Entomological Society of America Fellow in 2002 and Honorary Member in 2010. She served on the National Academy of Sciences' Board on Agriculture and Natural Resources and was appointed by President George W. Bush to the Board for International Food and Agriculture Development.
Specific to Truman, Quisenberry was a member of the Foundation Board, serving as president-elect and president before stepping down to assume the role of national chair for the University's five-year "Pursue the Future" development campaign. In addition, Quisenberry and her husband Larry were named Truman's Alumni of the Year in 2010 and received the University's prestigious President's Leadership Award in 2019.
Family and friends unable to attend the event in person can view the commencement ceremony
online
.
Details on commencement can be found
here
or through the
Facebook event
. Those wishing to share their experiences through social media are encouraged to use #TrumanGraduation, #TrumanGrad or #BulldogForever.