Spirit Day Photo Contest Offers VIP Homecoming Package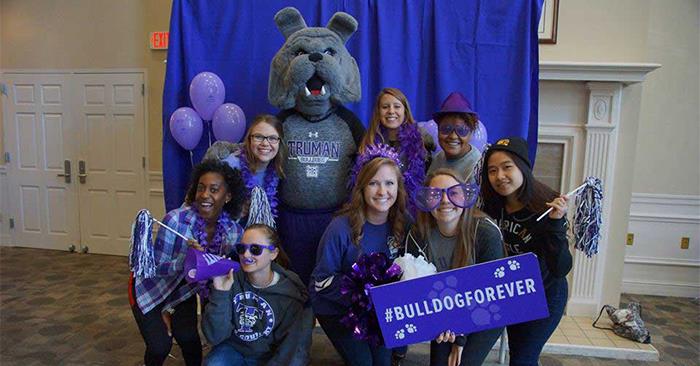 In honor of National Truman Spirit Day, Oct. 4, the Alumni Office will sponsor a photo contest with a grand prize that includes a VIP Homecoming package.
To enter the contest, participants just have to post a photo on Facebook, Twitter or Instagram displaying their Truman spirit and using the hashtags
#TrumanSpiritDay
and
#photocontest
between Sept. 20 and Sept. 27. Photos can include pets, babies, family members and friends, as long as they showcase Truman spirit.
From the eligible photos, five will be selected as finalists and reposted on Truman social media platforms. The finalist with the most likes will win the grand prize which includes: one hotel room for Oct. 18-19; four tickets to the Bulldog Forever tailgate; four tickets to the football game; and four Truman Homecoming T-shirts. The winner will be selected at 12 p.m. Oct. 4.
Entries from previous years can be seen on the
Spirit Day website
. All photos hashtagged for submission may be reposted to the Truman website and social media accounts. Both hashtags must be used to be considered for the contest. For more information, contact
Luke Callaghan
, alumni relations coordinator.