TruNews is Now News Channel 36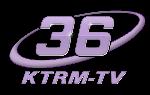 TruNews has formally changed its name to News Channel 36 KTRM-TV.
The program is often referred to as News 36 in short reference.
News 36 broadcasts a half hour program every Tuesday, starting at 5:30 p.m. Sept. 11 on Truman Channel 36. The broadcast will re-air at 9 p.m., 10 p.m. and 2 a.m.
News 36 will be rebroadcast Wednesdays at 7 p.m. and Thursdays at 3 p.m. on CableOne Channel 3, the Kirksville public information channel.
News 36 covers state, local and campus news.
Please send questions, tips or story ideas to
News36@truman.edu
.