Multimedia Lab Available for Use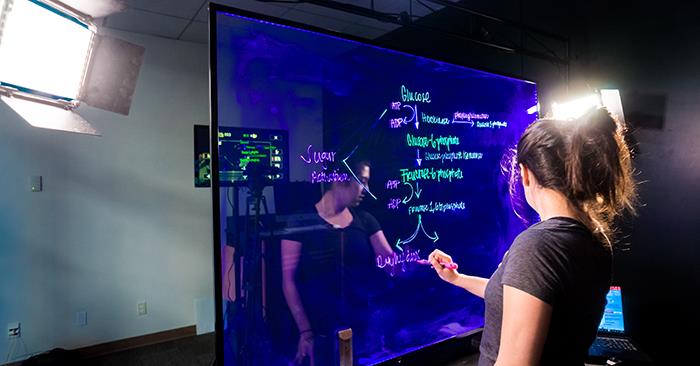 A student uses the Lightboard in the multimedia lab located in Pickler Memorial Library. The multimedia lab has been renovated and is now open for use.


The multimedia lab in Pickler Memorial Library has been renovated and is now open for use.
Located on the second floor, the facility includes a computer lab in room 203 and studios in room 204. It received renovations to the physical space as well as the technology it provides.
"The upgrade supports our mission to offer an exemplary undergraduate education to well-prepared students," said Susan Thomas, instructional designer.
Students can use the lab as a place to collaborate on group projects, work individually or be creative through the use of technology, and faculty will have the ability to create content for courses, websites and more. Some of the many uses of the lab include: recording podcasts; scanning photos, slides or film collections into online digital archives; narrating and sharing videos; converting old VHS tapes into digital video; converting cassette tapes into an online file or onto a flash drive; scanning large documents or books; editing movie clips together; recording lectures; creating green screen videos; and videoconferencing a tutor, mentor, family member or friend. The lab can be used for personal, school or work projects.
Technology offered in the lab includes 10 new iMac computers, five high-end Windows machines, a 70-inch touchscreen display, a One Button Studio, a Lightboard Studio and two videoconference rooms. Among the software found in the lab is iLife Suite for Macs, including iMovie and GarageBand, and Corel VideoStudio for Windows. Affinity Photo and Designer, GIMP, Inkscape, Audacity, Epson Scan, LibreOffice and Google Apps for Education can also be used in the lab.
"It's important for Truman to remain current with the latest technology, not just because of the cool factor, but because students entering the workforce or continuing on to discipline-specific grad schools need to have exposure to and experience with a wide variety of technology," said Diane Richmond, director of learning technologies.
The multimedia lab is open during library hours. Student multimedia assistants are available to help patrons during peak hours. The studios are currently available on a walk-in basis but may be able to be reserved through EMS in the near future. For more information about the multimedia lab,
click here
. Questions can be directed to the Learning Technologies Team at 660.785.7750 or at
ltt@truman.edu
.