Notables
Truman students
John Bickel
,
Branden Lawson
,
Stephen Plassmeyer
and
Zachary Smith
recently traveled to the Midwest Regional American Chemical Society (ACS) Meeting, Oct. 18-20 at the University of Kansas. The students gave poster presentations of research conducted in the Miller Research lab during the last year at Truman. Bickel, a senior chemistry major, presented his research on the structure and dynamics of the cancer drug cisplatin bound to the ribosome. Lawson, a senior chemistry major, presented his research on the aggregation dynamics of asphaltenes, molecules known to clog oil pipelines. Plassmeyer, a senior biology and chemistry double major, presented on the inhibitory capability of biflavanoid molecules on the aggregation of Amyloid Beta peptides, biomolecules associated with Alzheimer's Disease. Smith, a sophomore biology and chemistry double major, presented his research on potential inhibitors for the enzyme APOBEC3B, which is known to be over expressed in both cancer and HIV patients.
Bill Miller III
,
assistant professor of chemistry
, served as their research supervisor and accompanied them at the conference. These students will be continuing their research projects during the academic year.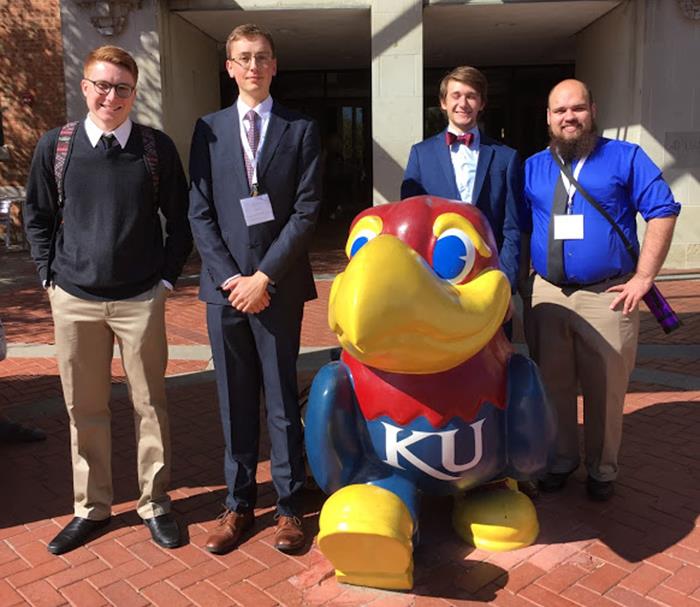 Truman students (from left) Branden Lawson, Zachary Smith, Stephen Plassmeyer and John Bickel attended the Midwest Regional American Chemical Society (ACS) Meeting in Lawrence, Kan.
"Teach Me the Way of Thy Word," a choral composition by
Warren Gooch
,
professor emeritus of music
, was performed on tour in six European countries by the Ohio Ambassadors of Song, under the direction of Dr. Gene Trantham. The work received performances in England, France, Switzerland, Austria, Germany and at St. Mark's Basilica in Venice, Italy. Gooch's "Three Fauxmanian Dances" received 20 performances across the state of Iowa by Red Cedar Chamber Duo, consisting of Miera Kim (violin) and Carey Bostian (cello). The duo included the work on their 2017 tour of the state, which concluded with a performance at the National Czech and Slovak Museum in Cedar Rapids. "Fauxmanian Dance No. 1" was performed in Bainbridge, Washington by members of the Seattle Symphony (Tom Dziekonski, violin and Virginia Dziekonski, cello). Gooch presented two music theory sessions at the 2017 Macro Analysis Creative Research Organization conference in Madison, Wis. The sessions were entitled "A Harmonic Template and Chromatic Harmony" and "Composition in the Theory Classroom." Gooch's composition "A Tempest" was performed on the 2017 national conference of the Christian Fellowship of Art Music Composers in Fresno, Calif., by the Fresno Pacific University Women's Chorale under the direction of Dr. Bethany Alvey. Gooch has also earned recognition for "A Modest Compendium of Olde Verse" for trumpet, horn and trombone, which was named a finalist in the 2017 South Texas Brass Symposium competition hosted by Del Mar College.
Chetan Jaiswal
,
assistant professor of computer science
, along with students
Wyatt Yost
and
Thomas Graves
, both senior computer science majors, attended and presented papers at the international IEEE UEMCON 2017 conference on Ubiquitous Computing, Electronics, and Mobile Communication at Columbia University in New York City, Oct. 19-21. These papers were a result of summer research projects the students conducted under the direction of Jaiswal. The acceptance rate for paper submissions for this conference was 30 percent. Yost and Thomas competed against doctorate and master's degree students in addition to other undergraduates. Each of the two student co-authored papers not only was accepted, but in addition each won Best Paper Award in their respective tracks of the conference. Yost's paper was titled "Malfire – malware firewall for malicious content detection and protection" in the Network Security track. Graves' paper was titled "Smart cooperative firewalls" in the track Microelectronic Circuits. The papers will be published in the conference proceedings by IEEE Xplore.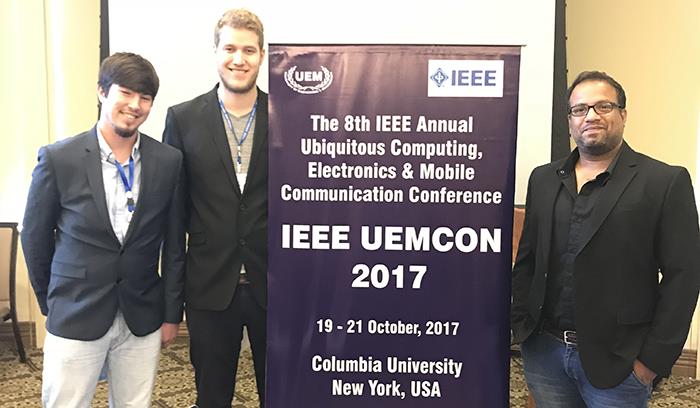 Faculty member Chetan Jaiswal and students Wyatt Yost and Thomas Graves attend the IEEE UEMCON 2017 conference in New York City, Oct. 19-21. Pictured, from left to right: Yost, Graves and Jaiswal. Betty L. McLane-Iles
,
professor of French
, presented a study on the former Minister of Justice of France entitled "Christiane Taubira's Contributions to Diversity and Justice in France" at the European Studies Conference Oct. 7 in Omaha, Neb. Additionally, during the monthly October meeting of the Kirksville Planning and Zoning Commission, McLane-Iles was elected to serve as vice-chair. She has served as a member of the commission since 2011.
Truman
was recognized by
Zippia.com
as being the No. 2 school in Missouri for accounting majors. The career guidance website, looked at data from multiple sites to consider career results, history emphasis and school performance.