Pershing Scholarship Now Honors Former President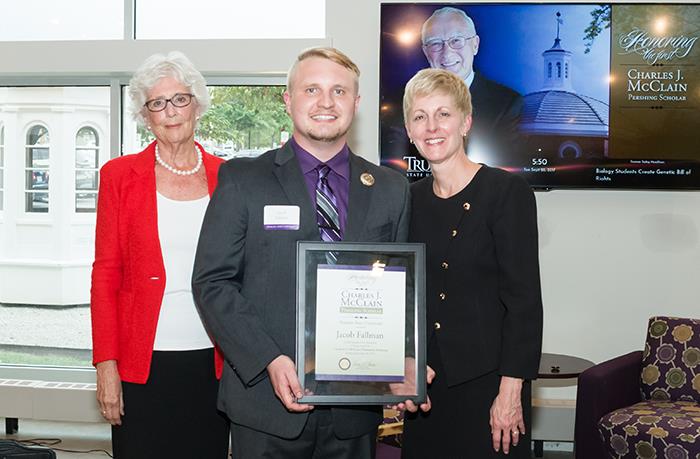 Jacob Fallman was named the first Charles J. McClain Pershing Scholar during a recent reception on campus. He was presented the award by University President Susan L. Thomas (right) and Ann Covington, McClain's wife.
Jacob Fallman, a senior from Oak Grove, Mo., has been named the first Charles J. McClain Pershing Scholar in Truman's history.
The Pershing Scholarship is one of the most prestigious awards the University can bestow upon a student. Named in honor of U.S. Army general and University alumnus John J. Pershing, the scholarship was created by former President Charles J. McClain and designed to provide a Truman education to some of the best and brightest students from across the nation. Since its inception in 1974, hundreds of students have studied at Truman as Pershing Scholars.
McClain's vision was that over time the Pershing Scholarship program would be supported by gifts from alumni and friends. In 2000, he helped kick off a campaign to build the scholarship endowment. Generous donors contributed to the ever-growing legacy and efforts were redoubled in recent years.
Alumni Jeff and Deanna Burns were among the donors who helped support the endowment. Deanna was an early Pershing Scholar. She and Jeff were active on campus, and both later went on to law school. She remembers McClain spending time getting to know them personally and talking about their futures.
"We wanted to give back to Truman because we believe that our success in our respective legal careers was possible because of the good foundation we received at Truman," Deanna said. "We also wanted to honor Dr. McClain because he meant so much to both of us."
Thanks to donors like the Burnses, the endowment is now able to support one Pershing Scholar who will receive the distinction of being named the Charles J. McClain Pershing Scholar. This distinction will be awarded annually to a junior or senior Pershing Scholar who has demonstrated preeminent intellectual capability and energetic leadership in the classroom, campus and community.
As a high school senior, being named a Pershing Scholar cemented Fallman's choice to attend Truman, and he has not taken that honor lightly. He looks at each class as a chance to learn something new. In the spring of 2017 he completed the prestigious Missouri Government Internship. After graduation he will be working as a legislative coordinator in the Office of Administration in the Division of Budget and Planning, and he plans to attend law school.
"During my time at Truman, I have learned a lot about President McClain, what he means to Truman and how he was a driving force in making Truman what it is today," Fallman said.
As president of the University from 1970 to 1989, McClain helped transform the school into Missouri's only statewide public liberal arts and sciences institution. More information about McClain can be found
here
.