Phi Tau and NEMO Heart Health Sponsor 5K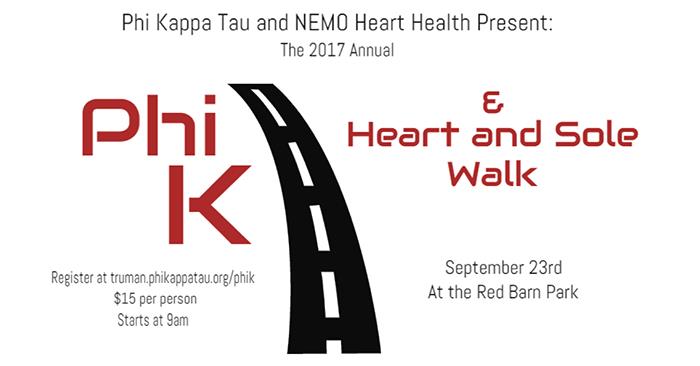 Truman's chapter of
Phi Kappa Tau
is partnering with
NEMO Heart Health
for a 5K fundraising event.
The annual
Phi K and Heart & Sole Walk
will take place at 9 a.m. Sept. 23 in Red Barn Park. All proceeds from the event will go to support Phi Tau's philanthropy, the USO, as well as NEMO Heart Health's efforts for AED maintenance and promotion.
Pre-registration can be done online at
truman.phikappatau.org/phik
. Fraternity members will also be conducting registration from 1-3 p.m. at tables in Magruder Hall Sept. 11 and the Student Union Building Sept. 12-14. Cost is $15. Registration begins at 9 a.m. with the event starting at 9:30 a.m. All participants will receive a T-shirt.