Nursing Students Study Abroad in Philippines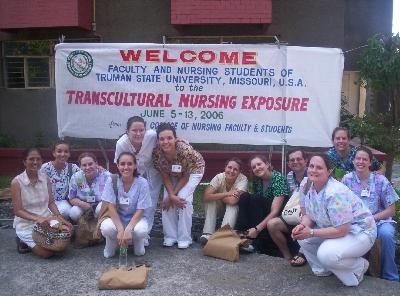 Nursing students in the Philippines

Truman State University nursing students who traveled to the Philippines last summer for a professional and cultural immersion, will share their experiences with both the University community and Kirksville at 8 p.m. Oct. 3 in the Student Union Building Alumni Room.
Nursing students will present posters, visual technologies and oral accounts of their discoveries in the Philippines. Refreshments will be provided by the Center for International Education Abroad. The public is invited to the event.
Eight senior nursing students from Truman spent three weeks from May 26-June 18, 2006, interacting with professional staff and patients in the Philippines.
Truman students Ashley Carter, Jessica Corwin, Melissa Maloney, Christine Motte, Jaime O'Sullivan, Melody Turner, Ashley Walker and Christine Williamson traveled to the Asian country to participate in this unique study abroad/professional immersion experience. Two senior nursing students from Blessing-Rieman School of Nursing in Quincy, Ill., Amy Curran and Lora Schiedeskamp, also traveled with the group.
Kit Hadwiger, assistant professor of nursing, was the faculty coordinator of the Nursing Transcultural Program in the Philippines. Stephen Hadwiger, associate professor of nursing, was the faculty assistant for this previous summer's program.
Students spent their first week in Jose Reyes Memorial Medical Center, the national government flagship hospital in Manila, working primarily in obstetrical and pediatric settings. Their experiences were not limited to just those two settings, however, as students got the chance to soak up a breadth of different clinical experiences.
During their final two weeks, students were paired with Filipino nursing students through West Visayas State University College of Nursing and learned about cultural influences in diverse clinical settings. They made home visits in barrios, examined commercial sex workers in the social hygiene clinic, interviewed people with leprosy at the Santa Barbara Sanitarium, assessed pregnant women in a prenatal care clinic and cared for patients in medical/surgical hospital wards. Nursing students also conducted cultural assessments, and examined influencing factors on health care, such as economics, culture, politics and gender.