Preservation Hall Jazz Band Kicks Off Kohlenberg Lyceum Series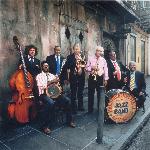 Preservation Hall Jazz Band

The 2006-2007 Truman State University Kohlenberg Lyceum Series begins with the smooth sounds of the New Orleans based Preservation Hall Jazz Band at 7:30 p.m. Oct. 3 in Baldwin Auditorium. They will also have a master class at 2 p.m. Oct. 2 in the Ophelia Parrish Performance Hall. Band members Carl LeBlanc, Walter Payton and Joseph Lastie will deliver the general lecture.
Preservation Hall Jazz Band is celebrating its 45th anniversary by touring worldwide in order to spread their mission to nurture and perpetuate the art form of New Orleans Jazz. The Preservation Hall Jazz Band previously performed at Truman in September 2000.
The band is lead by director Ben Jaffe. The band derives its name from Preservation Hall, the venerable music venue located in the heart of New Orleans' French Quarter.
Founded in 1963, the Preservation Hall Jazz Band has produced seven albums in its 45 years of existence.
Tickets for the performance are free to all students, faculty and staff, and are available beginning Sept. 26. Tickets for faculty and staff are available in the Center for Student Involvement, and students may pick their tickets up in the Student Activities Board office.