Pulitzer-winning Journalist to Address Issue of Media and the Underclass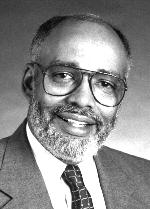 Leon Dash

Pulitzer Prize-winning journalist and author Leon Dash, formerly of
The Washington Post
, will present "Journalism and the Underclass" at 8 p.m., March 30, in Violette Hall 1000. A reception for Dash will follow his talk in the Violette Commons on the second floor.
The Society of Professional Journalists (SPJ) and the Multicultural Affairs Center are sponsoring Dash's visit. The presentation is free for members of the University community.
"Leon Dash's presentation will interest and inform students and faculty from every discipline on campus," said Karon Speckman, associate professor of communication: journalism and SPJ adviser. "Having such an acclaimed journalist, author and scholar visit our University is a tremendous opportunity to look at an important social issue in an interdisciplinary way."
New York University's journalism department honored Dash's Pulitzer-winning 1995 series "Rosa Lee: A Mother and Her Family in Urban America" as one of the 100 best works of the 20th century. The series chronicled the life of an American family trapped in the urban underclass.
Dash began his career with
The Washington Post
as a copyboy in 1965, working the night shift while finishing his bachelor's in history at Howard University. He graduated in 1968.
During his career with the
Post
, Dash progressed from the copy desk to the foreign desk and the investigative/projects desk. He is a founding member of the National Association of Black Journalists, and he is recognized as the creator of immersion journalism. He has authored or coauthored several books, including "The Shame of the Prisons," "When Children Want Children: The Urban Crisis in Teenage Childbearing" and "Rosa Lee: A Mother and Her Family in Urban America," which he based on the award-winning newspaper series.
Dash is now a permanent faculty member at the University of Illinois (Urbana-Champaign) Center for Advanced Studies.
For more information, contact Speckman at 785.7231.