Students Perform Well in National Tax Competition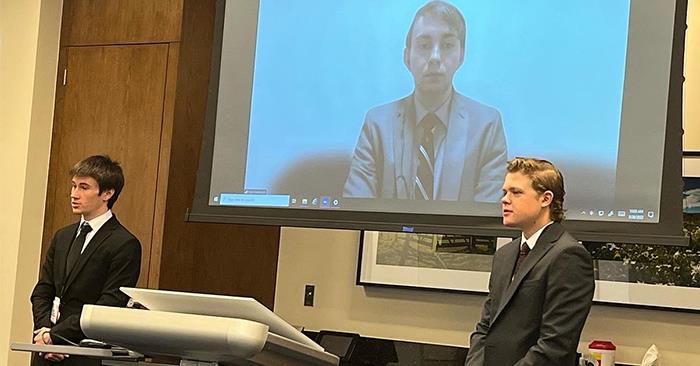 Matt Foster, left, along with Kyle Seabaugh, on screen, and John Marx, compete in the national round of the Deloitte FanTAXtic competition.

A team of Truman accounting students participated in the Deloitte FanTAXtic tax competition for the third year in a row.
Emily Imhoff, John Marx, Matt Foster and Kyle Seabaugh competed virtually in the Deloitte FanTAXtic regional case competition in October 2021. For the regional competition, teams were given three weeks to research real-life tax issues and present their suggestions to their "clients." The team's performance earned them a spot at the national competition.
The national competition took place at Deloitte University in Westlake, Texas, March 25-27, where Marx, Foster and Seabaugh again presented solutions to tax issues for their "clients" and also earned an honorable mention. This year's national competition FanTAXtic event included approximately 250 students from more than 40 colleges and universities and culminated in 60 students representing 16 university teams.
Sponsored by Deloitte Tax LLP and supported by the Deloitte Foundation, Deloitte FanTAXtic is designed to educate and prepare the next generation of tax talent for a career in business and tax. The interactive program includes case simulation, role playing and presentations which provide students with insights and perspectives on challenges facing the profession today, future trends that may impact it tomorrow and the overall changing business tax marketplace. Deloitte Tax LLP professionals participate in the event and offer the students support and guidance throughout the competition.