Third Year of JBA Jr. Set for July 11-15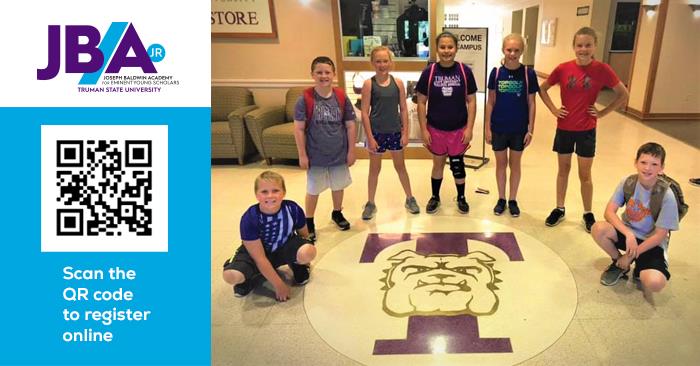 JBA Junior is entering the third year of offering a one-week day program filled with engaging academic opportunities for students from the Northeast Missouri region.
The program's goal is to help students from neighboring rural communities get excited about the possibility of college by spending time learning and exploring at Truman. Students will participate in several activities such as: scavenger hunts to get familiar with campus; music, art and science activities in University classrooms; labs, lessons and activities at the University Farm; planetarium and herpetology lab tours and more. Lunch and recreation will be provided each day. All classes and activities will be led by Truman faculty and staff.
This year's program will take place from 9 a.m.-4 p.m. July 11-15.
Registration
is now open and will continue until 12 a.m. June 1 or when the 50-student capacity is reached. The program is open to any 4th-6th grade students. Tuition is $100 per student. Students who qualify for federal free/reduced lunch have the option to pay a reduced tuition of $20. Callao C-8, Lewis County C-1 and Schuyler R-1 school districts will provide transportation to and from campus each day.
For more information contact the Institute for Academic Outreach at 660.785.5384 or visit
tiacademies.truman.edu
.