Truman Selects Campaign Theme, Logo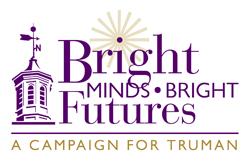 "Bright Minds Bright Futures" has emerged as the theme for Truman State University's inaugural campaign.
The theme and corresponding logo was approved by the campaign's Steering Committee, a team of volunteers who are providing oversight and leadership to Truman's $30 million fund-raising initiative.
Efforts in the early phase of the campaign are continuing, including the recruitment of voluntary leadership and securing of advance gift commitments. The campaign is designed to help Truman achieve its vision of becoming the premier public liberal arts and sciences university in the nation.