SunGard Commits $25,000 to Truman Campaign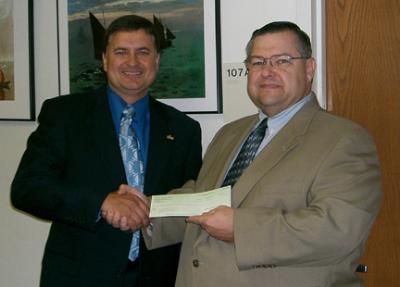 Mark Gambaiana accepts the first gift installment from George Beshears, director of information technology services, for SunGard's $25,000 scholarship endowment.
SunGard Higher Education has made a $25,000 commitment to Truman State University's "Bright Minds Bright Futures" campaign.
The gift will create the SunGard Higher Education Endowed Scholarship, designed for students with financial need, leadership potential and a record of service and involvement in civic, school or church organizations.
When fully endowed, the fund will provide an estimated $1,250 scholarship each year to a deserving student.
"Truman is very appreciative of SunGuard's scholarship commitment that helps address one of the top priorities in the campaign," said Mark Gambaiana, vice president for university advancement. "Few gift opportunities have a more direct or immediate impact on the lives of students than providing a financial helping hand in the educational process."
SunGard Higher Education, headquartered in Maitland, Fla., provides Information Technology management, services and resources to the Truman community.