Presentation About the Health Care System in the Philippines to be Held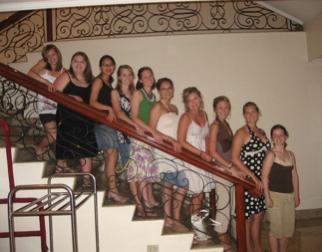 Nursing students who study abroad during the summer gather together (left to right) Elena Williams, Rebecca Strychacz, Nohemi Alvarez-Landa, Joanna Venneman, Megan Galloway, Kim Church, Alison Richards, Jamie Weninger, Katie Adler, and Juli Hermanson.
The Department of Nursing and the Center for International Education Abroad would like to invite the Truman State University community, the Nursing Advisory Council, and the public to attend a presentation about the health care system in the Philippines at 7 p.m. Oct. 24 in the Student Union Building Alumni Room.
This capstone presentation by the senior nursing students who studied abroad last summer in the Philippines will highlight themes of culture, family, acute care, maternal-child health and community health. The students' experiences involved diverse nursing practice settings.
Kit Hadwiger, the coordinator of the study-abroad program in the Philippines, will present a community assessment completed by the nursing students and faculty in collaboration with students and faculty from West Visayas State University in Iloilo City, Philippines. It is hoped that representatives of West Visayas State University will be attending this capstone presentation also.
The Department of Nursing strongly endorses the cross-cultural and global learning that evolves from study-abroad experiences for nursing students at Truman State University.
Contact Stephen Hadwiger at
shadwige@truman.edu
for more information.