Data Science Seminars Offer Free Look at New Career Paths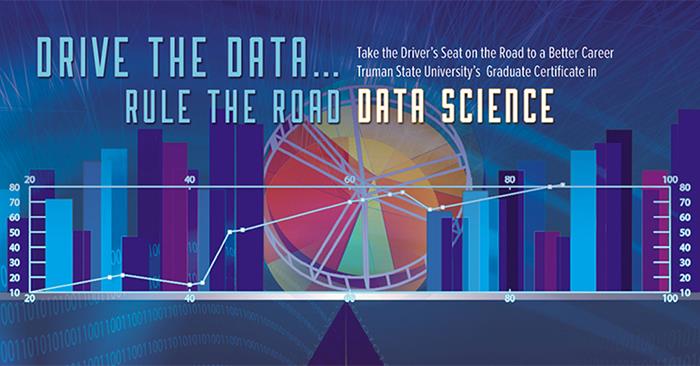 Truman is inviting those interested in a career in data science, or those wanting to train their employees in the field, to attend a free seminar in Kirksville or Hannibal.
The world is full of data, and even small and medium-sized businesses can be overwhelmed with actionable data from their sales, social media posts and marketing efforts. Meanwhile, major corporations are competing for the small pool of talented data analysts emerging from America's colleges and data science programs.
Northeast Missouri businesses, employees and students do not need to be left behind by businesses and the technological revolution. Training in the fundamentals of data science is possible – even for those without a statistics or computer science background – and data analysis techniques can be applied to a wide range of local fields.
During this seminar, participants will hear about career opportunities in data science, learn how data science techniques can help businesses and employees, explore the topics students study in data science courses and hear from actual data science practitioners about their careers. Participants can also learn about Truman's new graduate certificate in data science and get information about discounted pre-requisite courses available this December through the spring 2020 semester. There will be free heavy hors d'oeuvres and other refreshments to follow.
Truman will host seminars in Kirksville and Hannibal. Two sessions in Hannibal are scheduled for 2-4 p.m. and 5:30-7:30 p.m. Nov. 25 at the Holiday Inn Express & Suites. In Kirksville, seminars will take place on campus from 2-4 p.m. and 5:30-7:30 p.m. Nov. 26 in the Student Union Building Alumni Room.
Those wanting to attend any session can RSVP at
institute.truman.edu/data-science-workshops
or call 660.785.5384.