Speaker to Discuss National Debt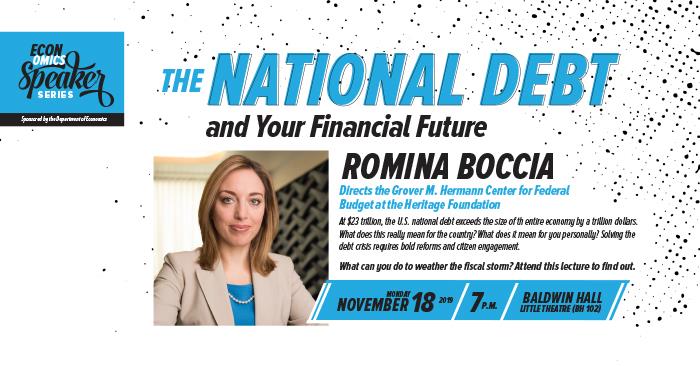 The Economics Department Speaker Series will host guest speaker Romina Boccia, who will present on socialism and the national debt.
Boccia directs the Grover M. Hermann Center for the Federal Budget at the Heritage Foundation in Washington, D.C., whose budget analysts and economists cover taxes, labor policy, pensions, appropriations, infrastructure and transportation. She received her bachelor's and master's degrees in economics from George Mason University. A member of the Foundation for Economics Education alumni board, she has appeared before live audiences across the globe.
Boccia will present on the allure of socialism in a class at 4:30 p.m. Nov. 18 in McClain Hall 208. Her talk will address the philosophy and workings behind socialism and capitalism and explore which economic system is best at promoting human flourishing.
Later in the evening in a free event open to the public, Boccia will speak on the national deficit and debt at 7 p.m. in Baldwin Hall Little Theater. She will explore the driving forces behind the growing debt and its impact on the economy and financial future.
These events are hosted by the Economics Department.