Career Center Offers Students Interviewing Experience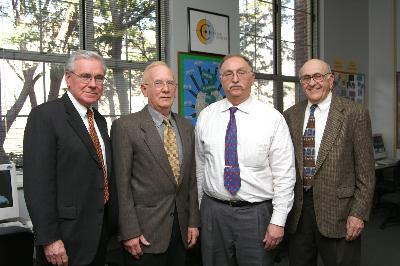 SCORE members who mock interviewed Feb. 14 include (pictured left to right): Harold Laydon, college president emeritus; Carl Block, professor of marketing/business; Mike Wozniak, electrical engineer; and John Rhein, professor of marketing/journalism.
Polly Matteson, a career coordinator at Truman's Career Center, has arranged with a SCORE (Service Corp of Retired Executives) chapter from Columbia, Mo., to provide students with very real-world interviewing experiences this semester.
SCORE is a national volunteer organization with members from all areas of business and academia. Members serve as mentors and advisers having a close working relationship with Small Business Development.
Visit the Career Center for more information on future SCORE mock interview dates.