Kohlenberg Lyceum Series Presents "The Trip to Bountiful"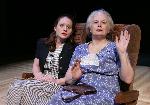 The Montana Repertory Theatre will perform "The Trip to Bountiful" as part of the Kohlenberg Lyceum Series at 7:30 p.m., Feb. 28, in Baldwin Auditorium.
"The Trip to Bountiful" tells the story of Carrie Watts, an elderly woman who feels the stifling confinement of the city apartment she shares with her son and daughter-in-law and decides to revisit her hometown in the low farmland of the Texas coast. There she discovers, amid the ruin and decay of time's passage, the satisfaction of a life well-lived and a renewed connection to her past. The play deals with two topics close to the heart, how to cope with parents as they age, and the existential tug people have in their hearts for "home."
In addition, the movie version of "The Trip to Bountiful" won an Oscar for Kirksville native Geraldine Page's heartfelt performance.
The Montana Repertory is a professional, community-oriented theatre company based at the University of Montana.
Free tickets for this performance are available Feb. 21 for students at the SAB office and for faculty and staff in the CSI with University ID.
Call 785.4016 for more information.