Faculty and Staff Honored at 39th Annual Service Recognition Luncheon
Members of the faculty and staff who are celebrating their retirement, 5th, 10th, 15th, 20th, 25th, 30th, 35th, 40th and 50th anniversaries of service to Truman were honored at the annual Service Recognition Luncheon April 29 in the Student Union Building Georgian Room.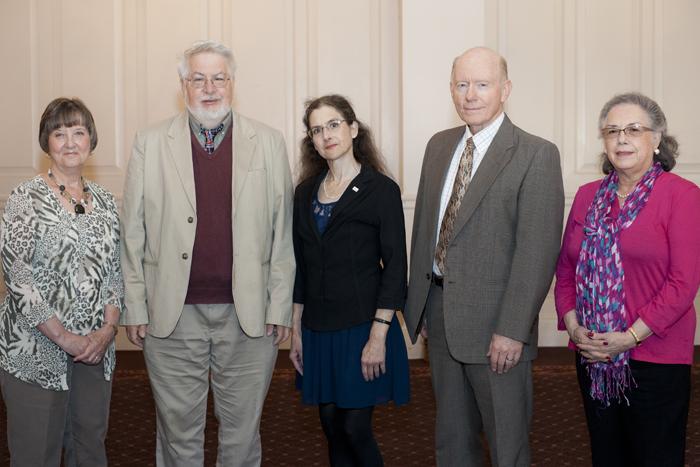 In the photo above are the 2012-2013 retirees honored at the Service Recognition Luncheon. Pictured left to right: Joyce Brown, Dana Delaware, Patricia Burton, Roy Tanner and Vera Piper. Not pictured: Amy Ahrens, Michele Breault, Darl Davis, Kaye Davis, Robert Davis, Stanley Dixon, Donna Ellsworth, Don Frost, Garry Gordon and Elizabeth Sponsler.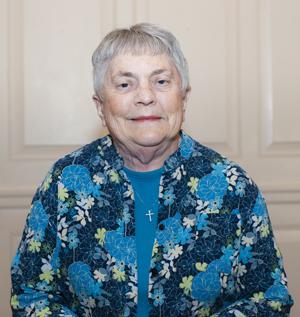 The 50-year-anniversary honoree was Marilyn Gibbons.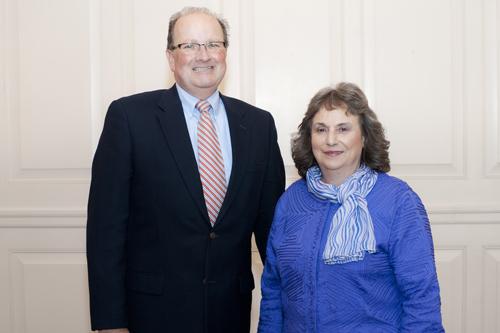 Pictured above are 40-year-anniversary honorees David Rector and Connie Ikerd.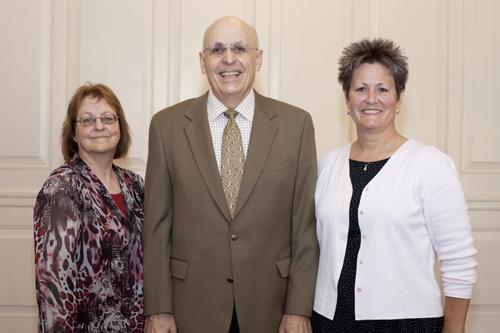 Pictured above are 35-year-anniversary honorees. From left to right: Judy Mullins,
Mark Appold and Marsha Redmon. Not pictured: Dan Peterson.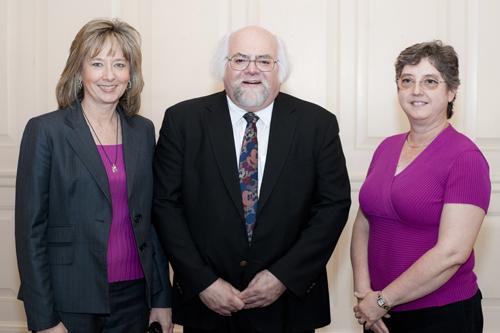 Pictured above are 30-year-anniversary honorees. From left to right: Traci Hill,
Steven Seward and Wanda Cagle. Not pictured: Roger Festa and David McKamie.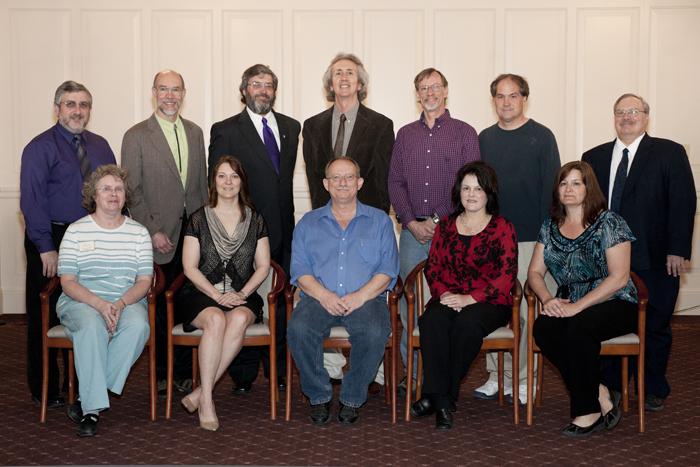 Pictured above are 25-year-anniversary honorees. Seated, left to right: Carol Lockhart, Rhoda Kennard, Brian Hudnall, Ruthie Dare-Halma and Cindy Woods. Back row: James Guffey, Kenneth Carter, Roger J. Johnson, Clifton Kreps, Ronald Rybkowski, Steven J. Smith and Warren Gooch. Not pictured: Dawood Afzal, Peggy Clark, Kevin Easley, Martin Erickson, Linda Moore, David Murphy, Paul Parker and Elaine Scudder.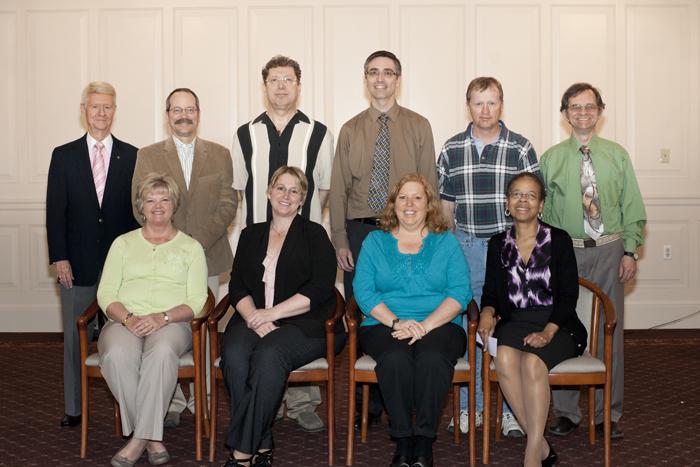 Pictured above are 20-year-anniversary honorees. Seated, left to right: Joyce Schmitz, Carolyn Wriedt, Shawna Berry and Bertha Thomas. Back row: Thomas Trimborn, Jon Beck, Lloyd Pflueger, Joe Hamilton, Bill Kuntz and Stephen Hadwiger. Not pictured: Natalie Alexander, Jay Belanger, Michael Cannon, Andrea Davis, Betty Floyd, Marty Jacques, Susan LaGrassa, Doug Ludolph, Cinda Mitchell and Kimberly Sayre.
Pictured above are 15-year-anniversary honorees. Seated, left to right: Nancy Rediger, Michael Seipel, Elizabeth Clark, Dean Baker and Laura Thrasher. Middle row: Raymond Phipps, Tim Mills, Ding-hwa Hsieh, Karl Schneider, Vicky Wehner, Dana Vazzana and Kim Murphy. Back row: Russell Nelson, Blake Pigg, Eric Jewell, Wolfgang Hoeschele, Tony Vazzana and Royce Kallerud. Not pictured: Hena Ahmad, Donald Bindner, Mike Burkett, Mike Cameron, Bruce Coggins, Michael Goggin, Christine Harker, Liz Jorn, David Lusk, Carol Marshall, Sam McClure, Jeanne Mitchell, Daniel Robbins, Deanna Rood, Bridget Thomas and Torbjorn Wandel.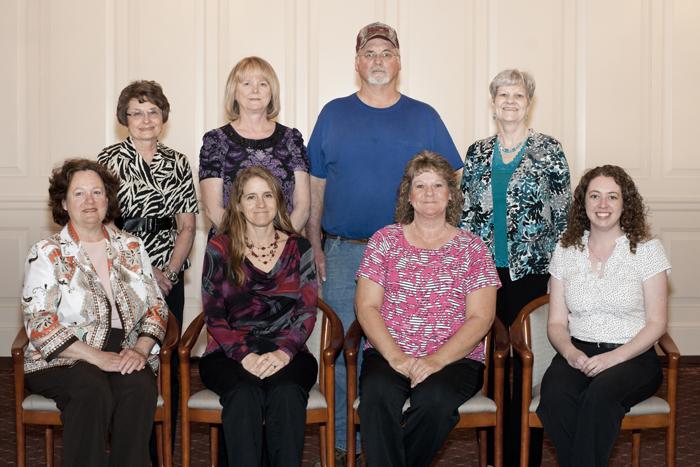 Pictured above are 10-year-anniversary honorees. Seated, left to right: Julie Lochbaum, Bethany Gibson, Gina Anthes and Dawn Howd. Back row: Cathy Williams, Mary Jane Kiefer, Louis McKim and Diane Bloskovich. Not pictured: Elaine AuBuchon, Richard Blackstad, Laurie Hall, Mark Jennings, Thomas Johnson and Charles Porter.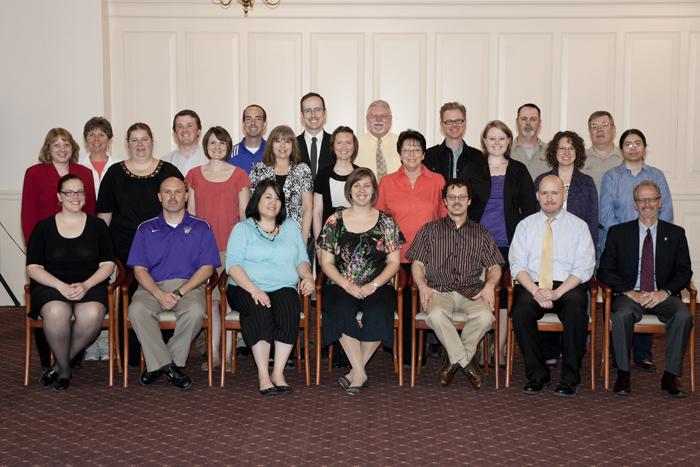 Pictured above are 5-year-anniversary honorees. Seated, left to right: Kristi Gerding-Scholten, Michael Smith, Tasha Peel, Kelsey Aurand de Razo, Sergio Escobar, Travis Miles and Troy Paino. Middle row: Donna Liss, Diane Ramirez, Stacy Tucker-Potter, Linda Bondy, Brandi Wriedt, Sherril Pearce, Jeri Speak, Patricia Hanson and Rubana Mahjabeen. Back row: Carla Smith, John Gardner, Tyler Madsen, David Charles Goyette, Dean Hansen, Charles Gran, Richard Sparks and Louis Veatch. Not pictured: Jose Castillo, Janet Coggins, Stephen Hudman, Kristen Irwin, Katherine Jackson, David Leaton, Russell Luce, Jill Miller, Joshua Noel, Dorothea Shipman, Carla Smith, Norman White and Rachelle Williams.