Robson Named 2013-14 Presser Scholar
Andrew Robson, a music major from St. Louis, Mo., has been named a Presser Scholar for the 2013-2014 academic year.
The Presser Undergraduate Scholar Award is given to an outstanding music major at the end of his or her junior year. The Presser Foundation honored Robson with this prestigious award this spring. Robson is currently pursuing a Bachelor of Arts degree in music, with additional studies in conducting. He is the son Jeffrey and Karen Robson, and is a graduate of Oakville Senior High School.
While in high school, Robson was a member of the St. Louis Symphony Youth Orchestra. In 2009, he won their concerto competition and performed Mozart's Concerto in G Major in Powell Hall. During his senior year Robson was Principal Flute in the Missouri Music Educators Association All-State Orchestra.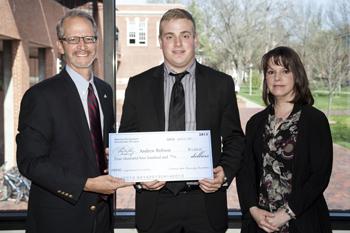 Andrew Robson accepts a check representing his Presser Scholar Award from
President Troy Paino, left, and Julianna Moore, professor of music.
At Truman, Robson studies flute with Julianna Moore, professor of music, and performs as Principal Flute in the University Orchestra and Wind Symphony. He has received additional instruction from Mark Sparks and Jennifer Nitchman of the St. Louis Symphony, and participated in the Professional Flute Seminar at the Innsbrook Institute.
Robson has won Truman's Gold Medal Concerto Competition twice, performing Chaminade's Concertino and Mercadante's Concerto in E minor with the University Orchestra. Additionally, Robson was the 2010 MMTA Woodwinds winner, and was selected as a member of the 2012 All-Collegiate Band and Principal Flute of the 2013 All-Collegiate Orchestra.
Along with his performance activities, Robson has maintained a strong academic and research record. He was invited to be a music theory mentor, and he has published an article in the Flutist Quarterly entitled "York Bowen's Sonata for Two Flutes, op. 103: The Discovery of the Rough and Sketchy Score."
Robson is a member of the National Flute Association and the professional music fraternity, Phi Mu Alpha.