Students Participate in Service-Learning in the Community
For several years the University has increasingly incorporated service-learning into the curriculum and many students have found it to be a rewarding part of their Truman experience.
"I was unsure about the service-learning at first because it was something new," said Truman sophomore Laura Beckering, who tutors students at Ray Miller Elementary School in Kirksville. "Now that I am getting used to it, I really enjoy helping the students and seeing the results when a child understands something they didn't before."
Through her Motivation and Emotion Psychology class, Beckering works with the Kirksville after-school program called Tiger Club, which provides students with a healthy snack, recess, help with their homework and academic instruction in reading and math.
Theresa Heckert, professor and chair of psychology and instructor of Beckering's class, is a supporter of service-learning and has implemented it in her classroom settings. She has experimented with different ways of getting her students involved in the community. Heckert recalls first hearing about service-learning at a University Conference Day and has since published research on the topic.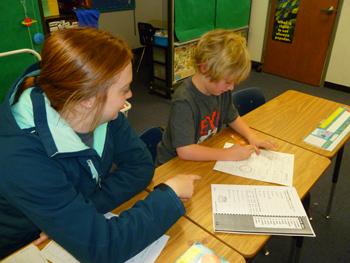 Sophomore Laura Beckering tutors a student at Ray Miller Elementary as a part
of the Kirksville after-school program called Tiger Club.
Heckert's goal for this particular class is to put Truman students in a position of motivating a child. Truman students have found themselves using resources from their own classroom to positively affect and reason with Kirksville students with homework, on the playground or during free reading time.
Teachers such as Amy Martin volunteer to stay two hours beyond their contract time to assist the students. Martin, a Truman alumna, has spent the past 10 years investing in her students after school.
"It is very beneficial for them both academically and socially to have a safe, structured, supportive environment after school," Martin said.
This year the structure for the motivation class is experimental. Students meet with the professor once a week for a lecture, tutor once a week and submit a journal at the end of each week connecting their experiences with the textbook material. Online lectures are also provided for more in-depth discussions on each chapter.
At the beginning of the semester students were given the choice of different grades and after-school programs to assist with, one being Ray Miller Elementary School.
Heckert has found all the evidence she needs to believe in the power of service-learning. Through her students' work and course evaluations she can attest to the deeper learning that pairs with civil involvement. She feels that each person should know that he or she can have an impact.
Participating in after-school programs has made course material valuable and instilled confidence in the lives of Beckering and her fellow classmates.
"This is a class where I become genuinely excited about what we are learning," Beckering said. "The course material is really just that – material from a course – until it is applied to real life."
Ray Miller students warmly accept Truman students into their schools each semester. Although some may be shy at first, Beckering commented, "several kids are not hesitant about shooting up their hands."
Martin has worked with Truman students for years and seen the same positivity coming from her students.
"The kids love working with Truman students," she said. "The extra attention makes them feel special."