Preservation Hall Jazz Band Opens 2012-2013 Kohlenberg Lyceum Series
The Kohlenberg Lyceum Series will kickoff its 2012-2013 season with a performance by Preservation Hall Jazz Band (PHJB) at 7:30 p.m. Oct. 2 in Baldwin Auditorium.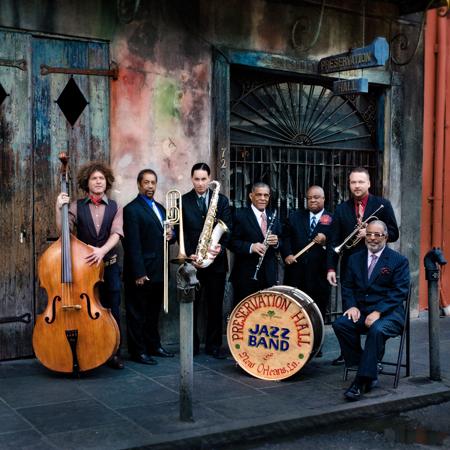 Preservation Hall Jazz Band
PHJB has performed on the Truman campus several times and past performances have always brought members of the audience to their feet. The band is known for its mission to carry on the traditions of New Orleans Jazz. They have toured globally, playing at major venues such as Carnegie Hall and the Lincoln Center and even performing for British Royalty and the King of Thailand. Currently, the band is under the leadership of director Ben Jaffe, son of Allen and Sandra Jaffe, who founded PHJB in 1961. The Jaffes were inspired to name the band after the esteemed and historically rich music venue Preservation Hall, located in the center of the French Quarter.
Tickets are available Sept. 25. Students may pick up their free ticket at the Student Activities Board Office in the Student Union Building. Faculty and staff may get their free tickets at the information desk in the Student Union Building. General admission tickets cost $7 and are available at the Truman Cashiers Window in McClain Hall or downtown at Edna Campbells. Tickets may also be purchased online at
lyceum.truman.edu
.


2012-2013 Kohlenberg Lyceum Series Schedule of Events:
Ben Mezrich
8:15 p.m.
Nov. 2
Presented by the Student Activities Board
Tonic Sol-fa
Holiday Concert
Nov. 26
Biloxi Blues
Montana Repertory Theatre
Feb. 20
Chamber Orchestra Kremlin
March 27
Mara Liasson
8 p.m.
April 13

Presented by the Holman Family Distinguished Speaker SeriesNote: All Kohlenberg Lyceum Series performances will take place in Baldwin Auditorium and will begin at 7:30 p.m. unless otherwise stated.