Jones Visits Greece, Guest on Radio Show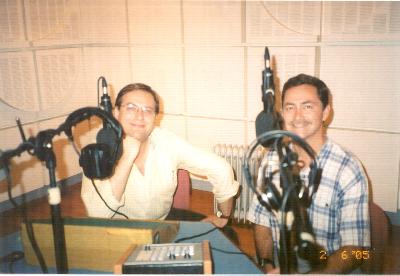 Gregory Jones, professor of music at Truman, (right) and Nikos Xanthoulis of the Athens Conservatory (left) before they go on the air for a live hour-long interview on Greek Public Radio.

Gregory Jones, professor of music and artist in residence in Greece 1995, helped lead a tour of Greece and Italy during the past summer with the Truman State University Cantoria and Brass Ensemble with performances in Athens and the island of Corfu in Greece and in Cremona and Lucca in Italy.
Jones also was the featured guest on the prestigious National Radio Third Programme in Athens, Greece in June. During the hour-long program, they played music from his CD "Alternate Voices," and discussed music performance and education. Later in the summer, Jones also performed at the International Trumpet Guild Conference in Bangkok, Thailand.
An Athens Conservatory trumpet student who began studying with Jones during his Greek Fulbright, Takis Balamos, has been selected as a permanent member of the trumpet section of the Athens State Orchestra, the home orchestra of the prestigious Megaron Music Center in the capital of Greece.